Home
TRIAL CHAMBER ORDERS MEDICAL EXAMINATION FOR MLADIC
Ratko Mladic's Trial Chamber has ordered that the accused undergo a detailed medical examination to establish if the trial could be on five instead of four days a week. In the decision, the judges indicate that a four-day schedule could mean that Mladic's trial would extend until mid-2016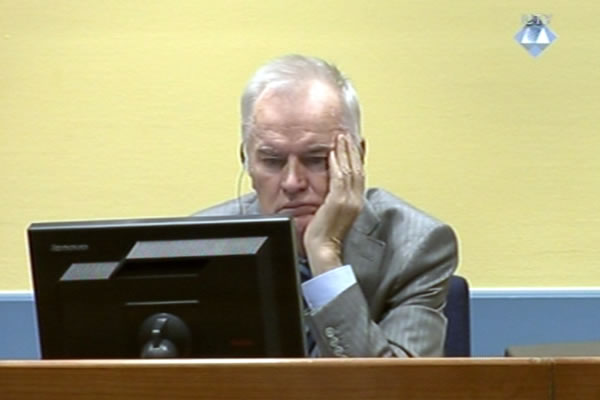 Ratko Mladic in the courtroom
The Appeals Chamber granted the motion of Ratko Mladic's defense and ordered the trial judges to cut the working week short, from five to four days. The Trial Chamber issued ordered that the accused undergo a detailed medical examination during the break between the prosecution and the defense case.
In the request to reduce the working week, the defense quoted the opinions of two medical doctors from Belgrade, who stated that the former commander of the VRS Main Staff was at risk of a new stroke. The Chamber then heard the Detention Unit doctor, who said their assessment was a worst case scenario. According to him, Mladic could suffer "burnout" brought on by exhaustion.
In the order the Trial Chamber notes that before the defense case opens in February or March 2014, the judges want to get an updated report on the "Accused's overall health situation" with a special emphasis the reports of his cardiologist and neurologist.
This examination should tell the judges if the accused is at a risk of a stroke if the trial continues on a five-day sitting schedule. The Trial Chamber expects the doctors to assess the risk in comparison to the average risk for men of his age, to say whether a break of about two to three months in the forthcoming period would influence the degree of risk and whether a delay in the conclusion of the trial by a period of half a year in 2016 would be medically preferable to maintaining a weekly court schedule of hearings during 5 days a week resulting in an earlier conclusion of the case.
The doctors are expected to submit their confidential reports as soon as possible and not later than 24 January 2014.