Home
HUMILIATED AND LET DOWN
In his evidence at the trial of Ratko Mladic, Canadian Patrick Rechner spoke about the 1995 'hostage crisis'. Rechner said that he had felt 'let down and humiliated' when he was taken hostage, used as a 'human shield' and threatened with death if NATO pursued air strikes against Bosnian Serb military targets. The defense contends that the paramilitaries were responsible for the bad things experienced by the witness and his colleagues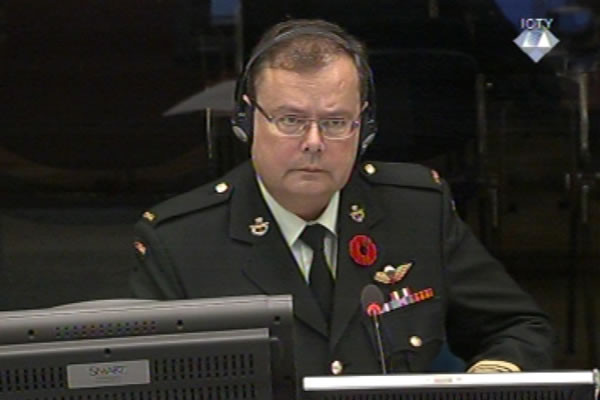 Patrick Rechner, witness at the Ratko Mladic trial
The trial of the former VRS Main Staff commander Ratko Mladic continued with the evidence of Patrick Rechner from Canada. In May and June 1995, Serb forces held Rechner hostage and used him as a human shield to prevent NATO air strikes. At the time of the 'hostage crisis' the witness headed a team of UN military observers at Pale. The UNMO's main task was to maintain contacts with the Bosnian Serb political and military leadership.
In his statement to the OTP Rechner said that he had felt 'let down and humiliated' when he was taken hostage, used as a 'human shield' and threatened with death if NATO continued its air strike campaign against the Bosnian Serb military targets. The prosecutor played a video recording showing Serb soldiers taking Rechner and his two colleagues to Jahorinski Potok. The Serb soldiers handcuffed them to lighting rods in front of the ammunition depot that had already been targeted by NATO.
When Serb soldiers broke into the military observers' premises at Pale on 26 May 1995, Rechner called the Republika Srpska president, as he explained in the cross-examination by Mladic's lawyer. Karadzic's secretary Mira told Rechner that 'those men have been sent there officially'. When Rechner asked Karadzic's legal advisor Jovan Zametica 'what's going on', Zametica briefly told him that he 'heard that something had been organized'. Zametica advised Rechner to 'be as cooperative as possible with those men'.
The defense tried to prove that 'those men' were paramilitaries and that the VRS 'didn't have anything' to do with the arrest of UN observers and other 'ugly incidents' Rechner mentioned in his testimony. According to Mladic's lawyer Miodrag Stojanovic, paramilitaries were to blame. Among them was Nicholas Ribic, a Canadian of Serb origin. Ribic threatened the observers that they would be killed if NATO didn't stop air strikes. The Canadian Federal Court sentenced Ribic to three years for terrorism and hostage-taking in May and June 1995.
As Stojanovic noted, in a questionnaire he filled in after his release, Rechner stated that he had been arrested by paramilitaries on 26 May 1995. Rechner explained that during their detention one of the soldiers who had arrested them identified himself to Rechner's colleague as a paramilitary. This led Rechner to conclude that the other soldiers were members of the same unit. Rechner also said that in the months before the 'hostage crisis' the VRS had been gradually restricting UNPROFOR's freedom of movement. By the time they were arrested, they were already for all intents and purposes under 'house arrest'.
The defense counsel put it to Rechner that when the air strikes were launched, the UN became a 'side in the conflict' and that Rechner and other UN members were considered 'prisoners of war'. Rechner said that he and his colleagues didn't feel like prisoners of war. On the contrary: they had been unlawfully arrested, held hostage and used by the Serb forces as 'human shields', Rechner said.
In the re-examination, prosecutor Camille Bibles brought up a VRS order from February 1994 stating that if NATO launched air strikes, all foreigners in Republika Srpska – including member of UNPROFOR and of international humanitarian organizations – should be attacked, arrested and held hostage until NATO stopped the strikes. Asked if that order reflected what had happened to him, the witness replied that it 'was much worse than that' in 1995. UN members had been taken to military facilities before, but were not used as human shields and they had not been threatened with execution.