Home
TRIAL OF EXHAUSTED MLADIC ADJOURNED AGAIN
The defense told the judges the accused was so exhausted he was too weak to even 'socialize' with his fellow detainees after hearings last week. After the first session, the accused was taken back to the Detention Unit after he complained of numbness in the right side of the body. The hearing was adjourned until further notice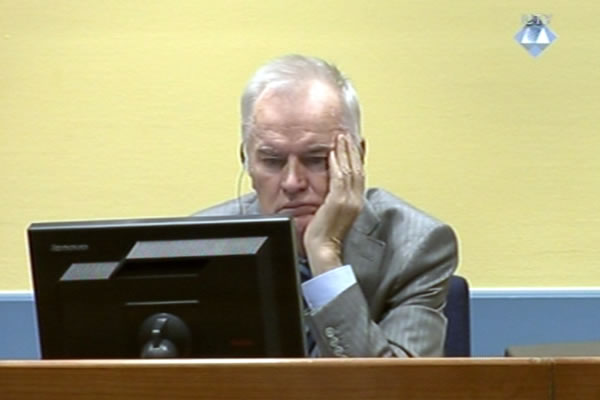 Ratko Mladic in the courtroom
In the first hour of the hearing, prosecutor McCloskey completed the examination-in-chief of the American military intelligence officer Richard Butler, but he could not be cross-examined. When the trial resumed after the break, the judges announced the trial would be adjourned because Ratko Mladic wasn't feeling well. He was taken back to the UN Detention Unit on the doctor's orders.
Defense counsel Lukic said that last week and the week before Mladic had been too exhausted on his return to the detention unit from the trial. He had been too weak 'to socialize with other detainees', or to 'eat and drink' and 'function anymore at all'. During the first break at the hearing today, Mladic complained of numbness in the right side of the body, 'as if his arm and leg were about to explode'. It was decided that Mladic should return to the detention unit.
The defense counsel reiterated his request to reduce the number of court days per week. Judge Orie did not respond to the request, in light of the fact that the motion to reduce the number of court days is pending before the Appeals Chamber. In the motion the defense appealed against the Trial Chamber's decision not to allow Mladic to have Wednesdays off. Fatigue was the main cause of the 'short circuits' – 'violent and sudden reactions' – the accused has been exhibiting in court, the defense noted in the motion.
Noting that the Trial Chamber only deals with the 'current situation', Judge Orie ordered to suspend the trial 'until further notice', as the accused had not waived his right to attend the trial. The judges will communicate the decision regarding the continuation of the trial later.
Before the break and the adjournment this morning, several documents and intercepts were admitted into evidence as prosecution exhibits. The documents show that Mladic and the officers in his Main Staff continued to control the situation in the field after the Srebrenica operation ended in July 1995. As Butler explained, this evidence shows that the military leadership decided the fate of the 18 wounded Muslims who were in the hospital in Milici. They disappeared without a trace in late July 1995 after they were transferred in Zvornik. It is assumed that the wounded Muslims suffered the same fate as the thousands of their countrymen who were executed after they were captured in and around Srebrenica.