Home
KARADZIC WANTS TO SEVER COUNT 1
After the Appeals Chamber reinstated Count 1 charging Karadzic with genocide in municipalities, the accused has filed a motion seeking its severance from the rest of the indictment, arguing that its inclusion would result in the trial dragging out for six to seven months longer than expected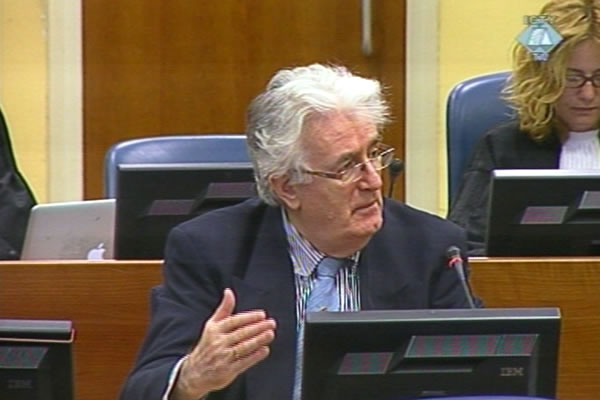 Radovan Karadzic in the courtroom
Radovan Karadzic filed today a motion to sever Count 1, charging him with genocide in municipalities, from the indictment against him, 'in the interest of a fair and expeditious trial'. If the prosecution wants, the accused is ready to face trial on that count after the Trial Chamber hands down the judgment on the remaining 10 counts in the indictment.
Last June, the Trial Chamber acquitted Karadzic on Count 1 of the indictment, after the prosecution rested its case, finding that the prosecution had failed to present sufficient evidence to prove that the crimes in the municipalities of Bratunac, Foca, Kljuc, Prijedor, Sanski Most, Vlasenica and Zvornik in 1992 reached the scope of genocide. Last week, the Appeals Chamber quashed the acquittal.
Since Count 1 has now been reinstated, Karadzic deems that it would prolong the trial by at least six to seven months. As he stated in his motion, he would first need a four-month break to allow the defense team to locate and interview all potential witnesses, and then at least a month for the Trial Chamber to decide how much time to give him to contest Count 1, and finally, a month or two to examine the additional witnesses.
On the other hand, if Count 1 were to be severed, and if he were to be tried on it after the completion of the current trial, the parties would be able to rest their cases on the remaining 10 counts of the indictment before the end of this year. Karadzic has already spent more than three fourths of the total of 300 hours he has been allotted for his case.