Home
RAPIST FROM FOCA GRANTED EARLY RELEASE
The Tribunal's president Meron has decided to grant former military policeman Radomir Kovac early release. Kovac served two thirds of his 20-year sentence and returned to Foca, where he raped a number of women and girls during the war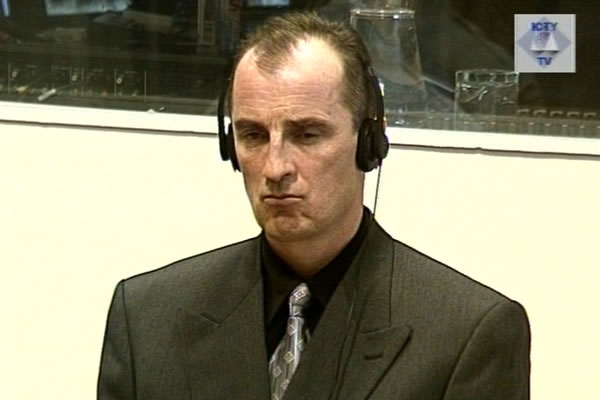 Radomir Kovac in the courtroom
After the Tribunal decided to grant early release to the Bosnian Serb Assembly speaker Momcilo Krajisnik, today it was disclosed that another convicted war criminal had been granted early release. Radomir Kovac, former deputy commander of the military police in Foca, was sentenced to 20 years for enslaving and raping Muslim women and underage girls. The Tribunal's president Theodor Meron issued the decision on early release on 27 March 2013. The decision was carried out on 1 July 2013 and was disclosed yesterday.
The decision on early release was based primarily on the fact that on 3 December 2012 Kovac served two thirds of his 20-year sentence. Kovac has spent about 14 years in prison, most of it in Norway, and a short period in the UN Detention Unit.
The parts of the decision on the so-called indicators of rehabilitation make for particularly interesting reading. According to Judge Meron, Kovac has demonstrated that he has been rehabilitated. First, Kovac 'most sincerely regrets all the acts he was convicted of'. Kovac promised that he would 'never again allow himself to be in a situation to commit any sort of crime'. Second, Kovac asserted that he has 'changed completely his social values' and 'educated himself' in that respect. Apart from a minor argument with a guard, he hasn't committed any serious offences. Even more importantly, Kovac never displayed any problematic behavior towards female inmates he was in contact with. He has been in regular contact with his wife and wanted to get together with her. Kovac plans to live with his wife in Foca, where he kept an apartment during the war in which he enslaved and raped a number of women and girls. Kovac says he intends to work at his father's farm or open a carpenter's shop. While serving his sentence, Kovac took a carpentry course.
The only thing against Kovac is the gravity of the crime he was convicted of. As noted in the decision, during the war Kovac held four women in his apartment. He abused them, raped them and passed them around to other soldiers. Kovac kept one of the girls for himself. The 15-year old girl was raped by him almost every evening he spent in his apartment. Eventually, Kovac sold three of the four girls to other soldiers. This was taken as an aggravating circumstance against the early release. However, it was not enough to keep Kovac in prison until he has served the entire sentence.
As she read out the trial judgment, Judge Mumba told Kovac 'you held those girls slaves, to take them when you wanted to and give them to whomever you wanted to. You took pleasure in exercising power over their lives, as demonstrated when you forced them to dance naked on a table and when you finally sold them to other soldiers'. The trial judgment emphasized that Kovac 'treated particularly cruelly and callously a helpless 12-year old girl whom he raped, gave to other soldiers to rape her and eventually sold her'. The girl has never been seen again.
Radomir Kovac was sentenced to 20 years and his fellow rapists Dragoljub Kunarac and Zoran Vukovic got 28 and 12 years in prison respectively in the same judgment. Vukovic was granted early release in 2008. Kunarac is in a prison in Germany: in a few years, he will have served two thirds of his sentence and will qualify for early release.