Home
KARADZIC THREATENS LAGUMDZIJA WITH SEVEN YEARS IN PRISON
After Ambassador Gordan Milinic testified last week in Radovan Karadzic's defense, Karadzic today returned the favor. He warned the BH foreign minister and Presidency that they were looking at a seven-year prison sentence or a €100,000 fine for contempt of court if they complied with the demands made by the victims' associations in their letter of protest. The ambassador denied the genocide and mocked the Srebrenica victims, and the associations contend that he is unworthy of representing Bosnia and Herzegovina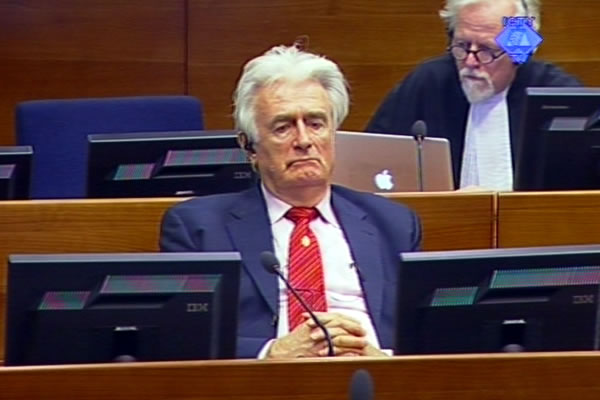 Radovan Karadzic in the courtroom
In a strongly worded letter addressed to Ahmet Halilovic, BH ambassador in Holland, Radovan Karadzic has warned the Ministry of Foreign Affairs and the BH Presidency that they would be held responsible of contempt of court if they jeopardized Gordan Milinic's diplomatic career as "retaliation" because of his evidence before the Tribunal. The former BH ambassador to Russia has introduced himself as a minister counselor in the BH Foreign Ministry; he is awaiting a new diplomatic posting.
Karadzic intervened after several Bosniak associations from North America sent an open letter to foreign minister Zlatko Lagumdzija and to the three members of the BH Presidency in which they state that Gordan Milinic's genocide denial and disparaging attitude towards the Srebrenica victims make him unworthy of serving as Bosnia and Herzegovina's representative anywhere in the world. In the letter, the associations called for Milinic's immediate dismissal from his post in the Ministry.
As he testified last week in Radovan Karadzic's defense, Ambassador Milinic claimed that there had been no genocide in Srebrenica. 'A few people may have been executed', Milinic said, adding that the cemetery in Potocari was a 'great farce and fraud'. Milinic's claims shocked the judges too. At the end of Milinic's evidence the judges asked him to confirm that he really was a diplomat representing BH abroad. Milinic confirmed it proudly.