Home
MLADIC'S THREATS TO 'BLUE HELMETS'
Ratko Mladic's defense continued the cross-examination of Robert Franken with the claim that the former VRS Main Staff commander didn't threaten the Dutch Battalion soldiers and the civilians of Srebrenica. Franken answered that at a meeting in Bratunac Mladic told the Dutch officers: 'From here you can leave, all of you, or stay, all of you, or die, all of you'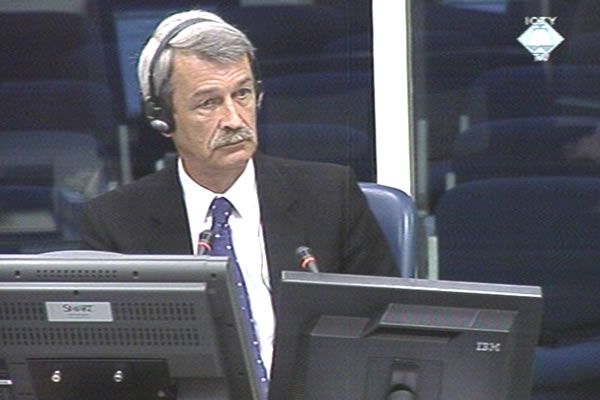 Robert Franken, witness at the Ratko Mladic trial
In the cross-examination of the former deputy commander of the Dutch Battalion Robert Franken Ratko Mladic's defense claimed that the former VRS Main Staff commander didn't make any threats to the Dutch Battalion soldiers and the civilians of Srebrenica in July 1995. The defense contends that the UN made the decision to evacuate the Srebrenica population, not the VRS.
Mladic's defense counsel Miodrag Stojanovic brought up a letter sent by the Dutch Battalion commander Karremans in which he described the meetings with Mladic on 11 and 12 July 1995. The letter notes that Mladic demanded that the Dutch call off the air strikes. If not, Mladic threatened, the VRS would shell the base in Potocari and the area around it. The UN soldiers and about 2,500 refugees were in the compound, and there were about 20,000 refugees from Srebrenica in the area around it.
Commenting on the letter, Franken said that he had no personal knowledge about Mladic's threat. He did remember that Karremans mentioned that Mladic had threatened to shell Potocari. After that Stojanovic played parts of the recording of Mladic's first meeting with the UN soldiers in the Fontana Hotel in Bratunac. The defense counsel put it to the witness that in the footage, Mladic never threatened the UN soldiers and civilians.
Unlike the defense counsel, Franken heard at least one threat made by Mladic when the recording was played in court. Franken noted that at that meeting Mladic told the Dutch, 'from here, you can leave, all of you, or stay, all of you, or die, all of you'. As the witness said, Mladic meant the members of the Dutch Battalion and the civilian population gathered in the UN compound in Potocari.
Stojanovic also tried to prove that the UN decided to evacuate the civilians from Srebrenica, not the VRS. As he said, the VRS implemented the decision because the Dutch Battalion in Srebrenica didn't have the resources to do it on their own. 'I don't know if UNPROFOR had decided to do it, or if it may have been the only possible decision, given the situation', Franken replied.
After Robert Franken completed his evidence, Ratko Mladic's trial continued with the testimony of witness RM 314. The witness is the only survivor of a group of 16 Muslims from Srebrenica who were executed by the Serb troops at the Jadar River bank.