Home
SUBPOENA FOR GENERAL ZIVANOVIC
The Trial Chamber has issued an order compelling General Milenko Zivanovic to testify in Radovan Karadzic's defense on 8 May 2013. If the former VRS Drina Corps commander complies with the order, this will be his first testimony before the Tribunal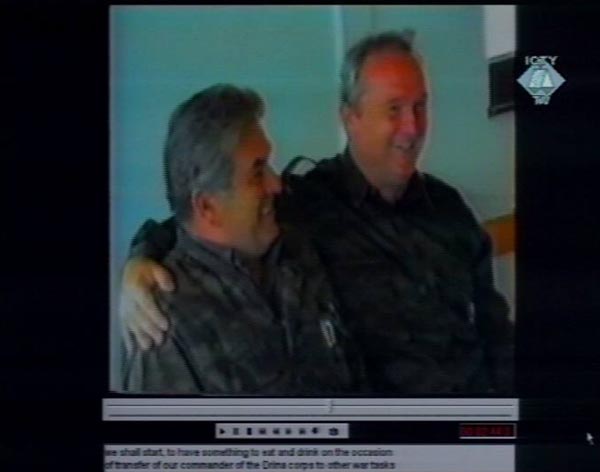 Milan Gvero and Milenko Zivanovic
Judge Kwon's Trial Chamber granted Radovan Karadzic's motion and issued a subpoena to General Milenko Zivanovic, compelling him to testify in The Hague on 8 May 2013 in Karadzic's defense case. Zivanovic was cautioned that he faced contempt of court charges if he refused to comply with the order. The charges carry the risk of up to seven years in prison and/or a fee of up to 100,000 euros.
In its decision, the Trial Chamber notes that in his evidence at Karadzic's trial Zivanovic should speak about his contacts with the accused and say if he had informed him that the captured Muslims in Srebrenica were or would be executed. Zivanovic is also expected to say if he had known about Karadzic's instructions to expel Bosnian Muslims from Srebrenica or his views to that effect.
Zivanovic refused to comply with Karadzic's request to testify in the defense case even with full protective measures. The main reason for his refusal were the threats he received, Zivanovic explained. After that Karadzic filed a motion asking the Trial Chamber to issue a binding order to Zivanovic. In the motion Karadzic said that given the scarce information about the purported threats, Zivanovic had no reason to ask for protective measures.
Zivanovic was the VRS Drina Corps commander before handing over the post to General Radislav Krstic, who was tried before the Tribunal and sentenced to 35 years in prison for aiding and abetting the genocide in Srebrenica in July 1995. On 13 July 1995, Krstic was appointed Drina Corps commander, replacing Zivanovic. This was two days after the Serb forces overran the safe haven of Srebrenica.