Home
SUBPOENA FOR FORMER BOSNIAN POLICE OFFICER
Karadzic was granted a motion for a subpoena to compel Edin Garaplija to testify. Garaplija, former Bosnian police officer, said in his interview with the OPT investigators in 2000 that some of the sniper and artillery incidents had been staged to make them look as if the Bosnian Serbs were to blame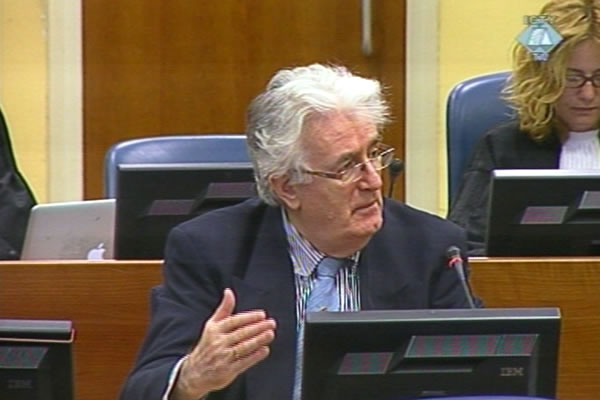 Radovan Karadzic in the courtroom
The Trial Chamber granted Radovan Karadzic's second motion to issue a subpoena compelling former Bosnian police officer Edin Garaplija to testify. Karadzic's first motion was rejected because the accused had not undertaken all reasonable measures to obtain Garaplija's evidence voluntarily.
Karadzic wanted Garaplija to appear as a witness on 6 February 2013, but the former Bosnian police officer refused to appear. He explained that "as a result of wartime and postwar
traumas, he could not remember the events" from the war in BiH. Garaplija was then issued with another request to give evidence but he refused once again. The accused considers that he has thus undertaken all reasonable measures to make Garaplija cooperate, and has now addressed the Trial Chamber and submitted another motion for a subpoena.
By granting the new motion filed by the accused, the judges accepted Karadzic's argument that Garaplija "had information which could materially assist his case" and that Garaplija's evidence might instill reasonable doubt about the prosecution's evidence on sniper attacks and the shelling of Sarajevo.
In his motion, Karadzic mentioned Garaplija's interview with the OTP investigators in 2000, in which Garaplija said that the Bosnian police special unit had killed a French UNPROFOR soldier in a sniper incident staged 'to make it look like it came from the Serb positions". Also, Garaplija said that the same unit activated an explosive device in Sefer Halilovic's apartment and planted evidence that "make it appear that the explosion had come from the Serbian shells outside the city". At the time, Halilovic was chief of the BH Army Main Staff.
The Trial Chamber agreed that the evidence about possible staging of incidents in a bid to blame the Bosnian Serbs for them "may be relevant to the Accused's case". According to the Trial Chamber, Garaplija's testimony may be of "material assistance" to Karadzic's case as "it may give rise to a reasonable doubt that Bosnian Serbs were responsible for the sniping and shelling
incidents as charged in the Indictment".