Home
1,200 SHELLS A DAY HIT SARAJEVO 'ON AVERAGE'
Another member of the UNPROFOR French contingent began his evidence at the trial of Ratko Mladic. In his written statement to the OTP investigators, the witness said that in the first three months of his service in 1993, an average of 1,200 shells fell on Sarajevo every day. The last day of March 1993, 2,400 projectiles were fired on the city from Serb positions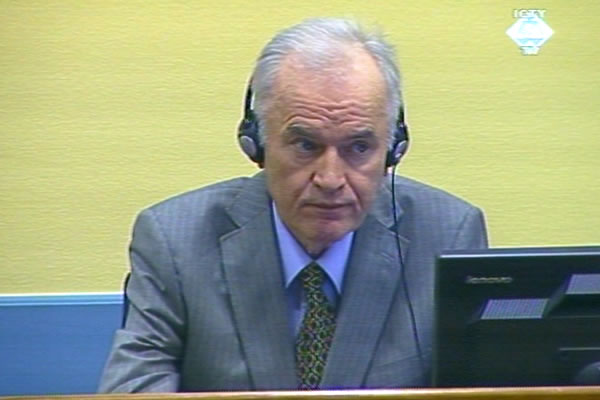 Ratko Mladic in the courtroom
Another member of the UNPROFOR French contingent began his testimony at the trial of Ratko Mladic, former commander of the Republika Srpska Army (VRS) Main Staff. As was the case with his predecessor, he testified under a pseudonym, RM 176, and his evidence was heard for the most part in closed sessions.
According to the summary of his statement, the witness joined the UN peace-keeping troops in Sarajevo in early 1993. In the first three months of his stay there, an average of 1,200 shells fell on the city every day. One of most harrowing days was 31 March 1993 when about 2,400 shells were fired on Sarajevo from the VRS positions, including 400 rounds that hit the old part of the city.
In his statement the witness said that the VRS shelled Sarajevo randomly and without any military purpose. The witness got the impression that Sarajevo was often shelled in retaliation for BH Army's attacks on VRS positions outside of the city. The witness described the shelling incident at a football match in Dobrinja on 1 June 1993. As alleged in the indictment, more than ten persons were killed and about 100 were wounded. The investigation established that the shells had been fired from Serb positions in Lukavica.
The witness also noted that the civilians were often targeted by snipers operating from Serb positions. Fabric curtains and other make-shift shelters were placed on cross-roads to protect the people from sniper fire. The casualties were nevertheless high even when there was a ceasefire in effect on the front, i.e., when there was no shooting. The witness estimates that one third of the victims were the elderly, women and children.
In his statement the witness said that General Stanislav Galic had effective command and control over the Sarajevo-Romanija Corps, and the VRS had a proper chain of command in place.
After the summary of the witness's statement was read out, prosecutor Lorna Bolton asked him a few questions about the sniper terror campaign in Sarajevo. The hearing then continued in closed session. The trial will resume tomorrow morning.