Home
OTHER SIDE'S CRIMES CANNOT BE USED AS DEFENSE
The Trial Chamber in the trial of Radovan Karadzic decided not to admit the entire statement made by defense witness Branislav Dukic and parts of the statements made by Radojka Pandurevic and Angelina Pikulic in which they speak about the crimes the BH Army committed in Sarajevo. The judges reminded Karadzic that he was not on trial for opening fire on the BH Army but on civilians. The revenge as a motive for crimes was not relevant for establishing the responsibility of the accused, the Trial Chamber noted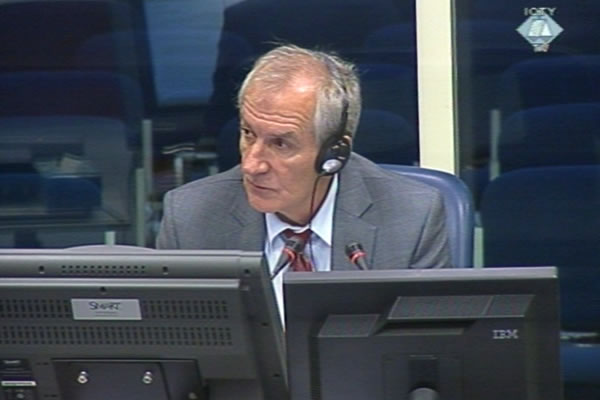 Velimir Dunjic, defence witness of Radovan Karadzic
Before the cross-examination of former commander of the VRS Igman Brigade Velimir Dunjic continued, Judge Kwon's Trial Chamber ruled on the prosecution's motion to exclude as irrelevant the statements of some of Radovan Karadzic's defense witnesses in part on in entirety.
The Trial Chamber refused to admit Branislav Dukic's written statement in its entirety. In it, he speaks about the crimes against Serbs in Sarajevo. Dukic will not be called to give evidence. The defense was also ordered to delete from statements of Radojka Pandurevic and Angelina Pikulic the parts about the crimes committed by the BH Army against Serbs. Karadzic will be able to call the two witnesses if he still wanted to, but will only be allowed to examine them about the parts of their statements relevant for the charges against him.
The judges warned Karadzic that the defense based on the crimes committed by the other side, tu quoque in Latin, was not acceptable before the Tribunal. The accused argued that the evidence was relevant to explain why the VRS opened fire on the BH Army and why 'individuals' from the VRS committed crimes. The judges reminded Karadzic that he was not on trial for firing at the BH Army but at civilians and that revenge as a motive for crimes was irrelevant in establishing his responsibility.
In the final part of her cross-examination of Velimir Dunjic, prosecutor Kimberly West put it to the witness that he had tolerated the illegal activities of the unit run by Chetnik warlord Branislav Gavrilovic Brne. This damaged the 'reputation' of the Serb army and was one of the reasons why the witness was relieved of all his duties in the VRS in January 1993, the prosecutor said. Dunjic contends that his conflict with General Galic was of 'personal nature' and denies that his dismissal had anything to do with Brne's group.
The prosecutor also brought up a VRS document describing an incident of 14 January 1993, involving Dunjic and a group of Brne's men who quarreled with General Galic and his escort. According to the document, Dunjic and Brne's men tried to arrest Galic. Dunjic claimed that Galic had come to his apartment on personal business. Dunjic refused to discuss the issue in open session. According to Dunjic, there was no conflict and Brne's men weren't there at all.
After Dunjic completed his evidence, Karadzic called Mile Sladoje as his next witness.