Home
ARMY AND PRISONS CAMPS IN PRIJEDOR
Journalist Nusret Sivac began his evidence at the trial of General Ratko Mladic; he spoke about the 'brutal and inhumane conditions', beatings, torture, killing and 'cruel abuse' of prisoners in the Prijedor prison camps of Keraterm, Omarska and Trnopolje. Sivac contends that the VRS, active police and drafted villagers provided security in prison camps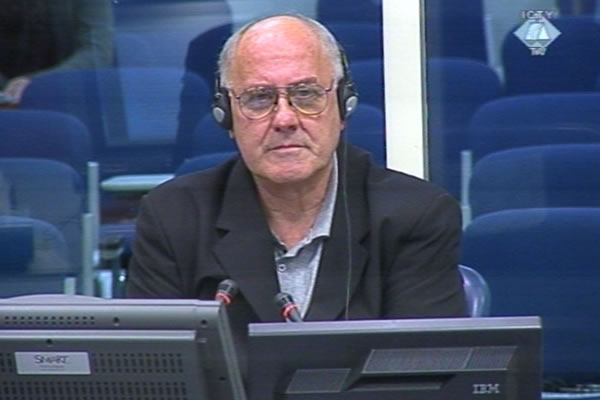 Nusret Sivac, witness at the Ratko Mladic trial
The trial of Ratko Mladic, former commander of the VRS Main Staff, continued with the evidence of Nusret Sivac, a journalist and writer, who spent a part of the summer of 1992 in the Prijedor prison camps as a detainee. Sivac's consolidated statement based on his evidence at the trial of Milomir Stakic was admitted into evidence. Stakic, former president of the Prijedor municipality, was sentenced to 40 years for the crimes in the prison camps of Omarska, Keraterm and Trnopolje. Sivac also testified at the trials of Miroslav Kvocka and others, Radoslav Brdjanin, Mico Stanisic and Stojan Zupljanin as well as against Radovan Karadzic.
Prosecutor Milbert Shin read out a brief summary of the statement. Until the end of 1989, Sivac worked in the Security Service in Prijedor and in 1992 he worked for the Sarajevo TV. Sivac described the takeover of power in Prijedor in April 1992, the ethnic cleansing and persecution of non-Serbs and the destruction of religious buildings and property.
Sivac was first arrested on 10 June 1992 and was taken to Keraterm and then Omarska, only to be released the same day. Ten days later, Sivac was rearrested and held in Omarska. In his statement to the OTP Sivac described the 'brutal and inhumane conditions' in which prisoners were held, how they were beaten, tortured, killed. He also described the 'cruel abuse' of the female detainees. On 7 August 1992, the witness was transferred to Trnopolje and remained there until the end of the month.
In July 1992 a delegation arrived in Omarska, Sivac said. Among others, it included Stakic, who was the president of the Prijedor municipality and the municipal SDS, Brdjanin, who was the president of the Autonomous Region of Krajina, Major Zeljaja and three top officials from Banja Luka: Vukic, Radic and Zupljanin.
According to Sivac, the interior security in the Omarska prison camp was provided by the active and reserve police and soldiers who had been called up. Villagers who had been drafted provided the security of the outside perimeter: they formed two concentric circles around the prison camp separated by a mine field. Sivac also said that RS soldiers and two former police officers were securing the Trnopolje prison camp. Slobodan Kuruzovic was the Trnopolje prison camp commander, the witness said, and the Balaban brothers, who were in the military police, assisted Kuruzovic. Sivac identified as guards Boro Grubic, a former journalist, and Zoran Kneginjac, an acquaintance. Members of the VRS town battalion Aco Ostojic and his sons Roman and Igor guarded the prison camp perimeter. Nusret Sivac will continue the evidence tomorrow.