Home
MLADIC COULD ORDER A CEASE FIRE IF HE WANTED
The transcript of an intercepted conversation from May 1992 in which Ratko Mladic orders his subordinates not to open fire on Sarajevo during the evacuation of the JNA troops was presented to John Wilson today. The former head of UN observers in BH said that it meant Mladic could impose a ceasefire 'if he wanted'. The prosecution will continue its case on 29 October 2012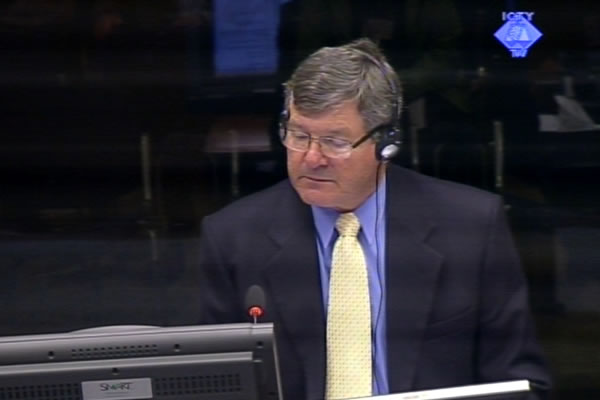 John Wilson, witness at the Ratko Mladic trial
It is the defense's case that when Ratko Mladic threatened he would 'raze Sarajevo to the ground' before the international officials, he was in fact acting out of concern for the safety of the JNA troops. At that time, the JNA forces had not yet been evacuated from Sarajevo. In the cross-examination of Australian general John Wilson, defense counsel Nenad Petrusic recalled that in the first half of March 1992, JNA columns pulling out of BH had been attacked, first in Dobrovoljacka Street in Sarajevo, and later in Tuzla. Dozens of soldiers and officers were killed in the attacks. The witness didn't deny that the accused had reasons for concern. Nevertheless, Mladic shouldn't have acted on his concern by retaliating against the citizens of Sarajevo, the witness insisted throughout his evidence.
In a bid to show Mladic's purported commitment to finding a peaceful solution for the problem, the defense showed the transcript of a conversation intercepted on 24 May 1992. In the conversation, Mladic orders one of his subordinate officers, 'Tell those guys up there to keep it quiet, don't let this shooting happen, you are ruining everything else for me'. This was a reference to the evacuation of the remaining JNA troops from the city. The witness confirmed it, adding that this showed General Mladic could 'impose a ceasefire if he wanted'.
Some time before the intercepted conversation, the Viktor Bubanj barracks were evacuated; the Jusuf Djonlic barracks were evacuated a few days later. Only the soldiers in the Marsal Tito barracks had to be evacuated, after an agreement was reached about the weapons they could take with them. At a meeting with General Wilson on 25 May 1992, Mladic threatened he would 'raze half of the city to the ground' if the evacuation of the JNA troops was not completed in three days. One of the two heaviest artillery attacks on the civilian areas the witness could recall followed. The Marsal Tito barracks were evacuated soon afterwards. General Wilson was in Sarajevo from mid-May to the end of June 1992 as the head of the UN military observers.
Today, presiding judge Orie asked the defense to explain its position on the intercepted conversations involving Mladic. As Judge Orie noted, the defense on the one hand challenge the authenticity of the intercepts, but on the other, the defense has used them in a bid to prove the innocence of the accused. Defense counsel Petrusic stated that the defense considered the intercepts were not authentic, but wanted to examine the witnesses about them in case the Trial Chamber decided to admit them into evidence.
Yesterday, Mladic was removed from court because he failed to comply with the judges' order to communicate with his defense only in writing. After Wilson completed his evidence today Ratko Mladic returned to the dock for a brief administrative hearing. The trial will be adjourned for two weeks; the prosecution case will continue on Monday, 29 October 2012.