Home
MLADIC THREATENS TO GO ON HUNGER STRIKE
During the cross-examination of a protected prosecution witness, Ratko Mladic made gestures and comments and laughed out loud. This prompted the judges to have Mladic removed from court. Through his lawyers Mladic asked the judges for their understanding, explaining that he 'is not able to control his emotions'. Mladic announced that if the Trial Chamber tried to impose other defense lawyers to him he 'will go on hunger strike and stop taking his medication'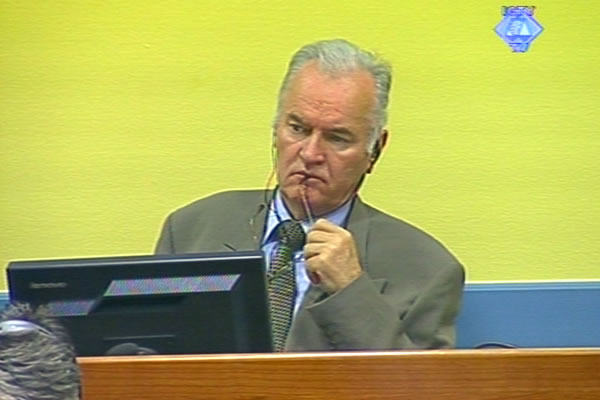 Ratko Mladic in the courtroom
Ratko Mladic behaved inappropriately and was removed from court today during the testimony of a protected witness, testifying under the pseudonym RM 081. The witness was telling the court about crimes against Muslims in Rogatica.
Although Mladic's defense lawyers cross-examined the witness in private session, the few visitors in the public gallery could see what was going on in the courtroom through the glass, but it was like watching a silent movie, as no sound is transmitted out of the courtroom. The audience could see Mladic laughing out loud, shaking his head, spreading out his hands and grabbing his head, expressing his disbelief at what the witness was saying. Mladic also threw paper notes to his defense counsels.
After about half an hour, the hearing was interrupted and the judges left the courtroom. The curtains were pulled down and the audience could no longer see or hear anything, apart from Mladic shouting in the corridor through which he was taken out of the courtroom to the room for the accused. Soon afterwards, the curtains were pulled up and the judges and other participants returned to their places. The dock remained empty.
After the court returned to open session, the presiding judge explained that Mladic had been removed from court for inappropriate behavior. The Trial Chamber allowed one of the defense counsels to withdraw and speak to the accused, and ordered the cross-examination to continue until the break. After the break, the judge announced that the order to keep Mladic away from the courtroom 'remains in effect until Witness RM 081 completes his evidence'. Defense counsel Miodrag Stojanovic relayed to the judges that the accused had said he 'cannot control his emotions, laughter or tears'. Mladic asked the judges to understand his situation and allow him to return to the courtroom. If not, Mladic would withdraw his defense team from the courtroom. If the judges didn't accept that and tried to impose new defense lawyers to Mladic, he would 'go on hunger strike and stop taking his medication', Stojanovic said. Since the judges decided not to allow Mladic to return to the courtroom until the end of the cross-examination of Witness RM 081, the defense counsels refrained from further questions.
The accused didn't return to court when the next witness, British colonel Pyers Tucker began his evidence. The defense lawyers stated that Mladic wasn't feeling well and had had to lie down in an adjacent room waiting to have his blood pressure taken. When the medical staff confirmed that Mladic was able to follow the trial, he returned to the courtroom at the beginning of the third session.