Home
NEW RULES FOR MLADIC
Ratko Mladic has refused to heed previous warnings of the Trial Chamber to behave properly and has abused his right to consult with his defense in court. The Trial Chamber therefore ordered Mladic to communicate with his defense only in writing and 'quietly'. If he fails to obey yet again, the Trial Chamber will remove him from court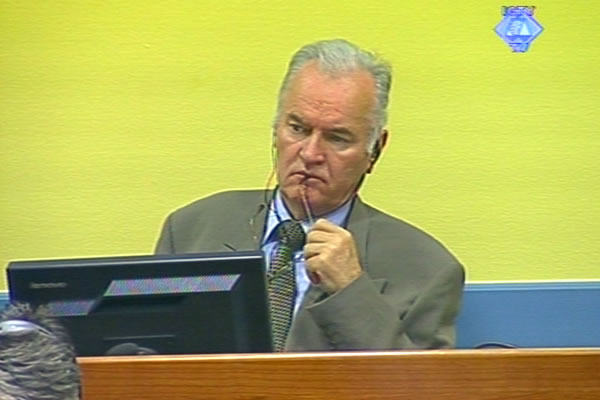 Ratko Mladic in the courtroom
Thanks to his previous 'mischief', Ratko Mladic will now have to stick to new rules of conduct in court. The Trial Chamber decided to introduce measures to protect the witnesses during their examination and guarantee order, with the accused in the courtroom or without him.
Explaining the decision this morning, presiding judge Orie said that five witnesses have recently complained to the Trial Chamber that Mladic commented loudly on their evidence 'verbally or in other ways'. Yesterday, during the evidence of Osman Selak, at one point Mladic shouted loudly that the witness was 'lying'. In court, Mladic makes comments about the witnesses' testimonies, pretending he is actually calling his defense counsels for consultation. Apart from making a lot of noise in court, Mladic is trying to send a message to the witnesses and exert pressure on them.
In a bid to stop this habit, the Trial Chamber ordered a new regime in the courtroom. Mladic may not say anything while the court is in session and may not consult his defense. He will be allowed to consult orally with his defense only during the breaks. During the hearings Mladic will only be allowed to communicate in writing by 'passing little notes quietly to his defense counsel'. Any breaches of the order will result 'in the removal of the accused from court'. The decision was made because the accused speaks 'loud enough for everybody to hear him'. The judges cannot understand what he is saying. Thus Mladic showed that he 'interferes with the evidence of the witnesses constantly and repeatedly in an unacceptable way'.
Defense counsel Branko Lukic argued that Mladic could only write 'very slowly' and his written notes would reach the defense team too late. 'Too bad we have come to this pass' the presiding judge said, adding that the Trial Chamber had not reached the decision 'lightly' but maintained that 'there was no other way' to protect the witnesses and impose order in the courtroom.
The trial of Ratko Mladic for double genocide and involvement in four joint enterprises in BH continued with the testimony of Sulejman Crncalo.