Home
CLOSING ARGUMENTS AT STANISIC AND SIMATOVIC TRIAL IN SEPTEMBER
Judge Orie's Trial Chamber ordered the parties at the administrative hearing to submit their final briefs by 21 August 2012. The closing arguments will be presented from 11 to 13 September 2012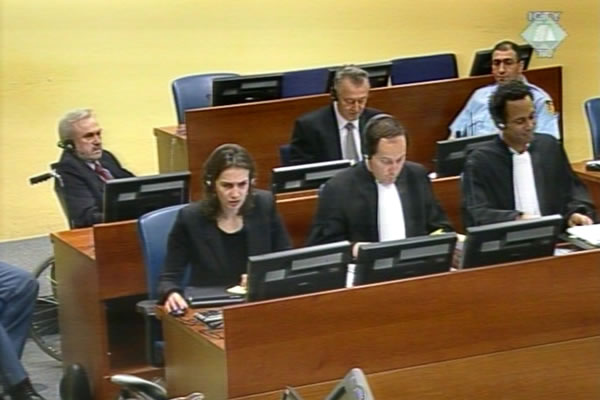 Jovica Stanisic and Franko Simatovic in the courtroom
After Franko Simatovic's defense rested its case last week, a witness of Jovica Stanisic's defense was recalled for additional examination. Today, the trial of the former Serbian State Security chiefs continued with an administrative hearing to deal with pending issues. The primary focus of the hearing was the admission of exhibits and an outline of the final stage of the trial.
As presiding judge Orie said, the Trial Chamber partially granted the prosecution's and defense's motion to extend the deadline for the submission of final briefs. The parties were originally ordered to submit their final briefs by the end of July 2012. The new deadline is 21 August 2012. The parties will deliver their closing arguments from 11 to 13 September 2012.
The prosecution will have four hours to present its closing argument. The two defense teams will have two and a half hours each. The prosecution will then respond. The defense will have one hour to reply to the prosecution's arguments. It had been indicated earlier that the Trial Chamber would call several witnesses in June 2012. According to the Trial Chamber, the witnesses may shed additional light on the Stanisic's and Simatovic's authority and responsibility.
The former chiefs of the Serbian secret service are charged with participation in the joint criminal enterprise aimed at the ethnic cleansing of large parts of Croatia and BH from 1991 to 1995. As alleged in the indictment, the objective was implemented through crimes against non-Serbs committed by units under the control of the Serbian State Security Service, such as Red Berets unit, 'Arkan's men', 'Scorpions' and others.
The administrative hearing will continue next Tuesday.