Home
MLADIC UNDERGOES MEDICAL TESTS
Former VRS commander Ratko Mladic didn't show up in court today. As presiding judge Orie said, he has been hospitalized for a 24-hour round of medical tests and observation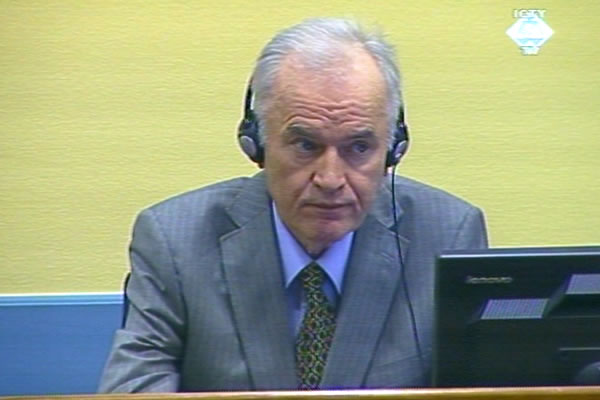 Ratko Mladic in the courtroom
After the trial was interrupted yesterday because the accused complained he was not feeling well, Ratko Mladic didn't show up in court today for the scheduled continuation of the prosecution case. Presiding judge Alphons Orie notified the court that Mladic was in hospital for a 24-hour round of medical tests and observation.
Judge Orie informed the public and the parties that he had discussed Mladic's health twice with an official from the Tribunal's Registry, Martin Petrov. The first time they discussed the time needed for the medical exam and the scope of the report on Mladic's health requested by the Chamber.
'In the second conversation, Petrov told me that one of the tests required Mr. Mladic's presence over a 24-hour period, and he will therefore be unable to attend trial today,' Judge Orie said, concluding that in light of the situation, the witness will return to the stand on Monday morning.
The continuation of Mladic's trial will depend on the results of the medical exam and the physician's assessment of the ability of the accused to follow the trial. After the trial ended today, Mladic's counsel Branko Lukic said to the journalists that Mladic's health was better than it seemed yesterday when he was not feeling well. He was not able to move his right hand and right leg. 'We suspected that he had a stroke but we were told that everything was fine", the defense counsel confirmed. He explained that the available medical results showed Mladic had high blood pressure and elevated blood sugar levels. After two brain scans, it was confirmed that he didn't have a stroke.
Lukic said that he hoped Mladic's trial might continue on Monday morning. The defense counsel

should then continue his cross-examination of witness David Harland, former

chief of the civil affairs in the UN mission in BH. Former commander of the VRS Main Staff commander is on trial for genocide and other crimes committed in Bosnia and Herzegovina.