Home
'INTEGRATIVE CHARACTER' OF MUP AND SERBIAN STATE SECURITY SERVICE
Milan Milosevic, who teaches at the Police Academy in Belgrade, was asked by Franko Simatovic's defense to write an expert report. In the report, Milosevic says that the Police Act of the Republic of Serbia advocated cooperation between the police forces in the republics and had 'an integrative character'. When he was called to explain how the Serbian MUP took over the federal MUP in Belgrade, Milosevic said that it was done to 'streamline the operation and cut costs'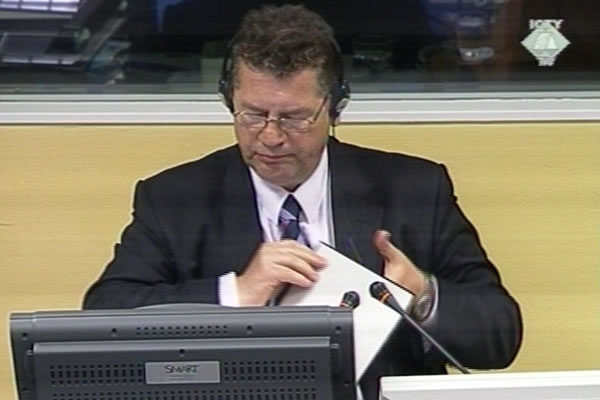 Milan Milosevic, defence witness of Franko Simatovic
After a one-month break, the trial of the former Serbian State Security Service chiefs Jovica Stanisic and Franko Simatovic continued. Simatovic continued his case with the evidence of a police expert Milan Milosevic, who wrote an expert report on 'the police work and the state security services in SFRY and Serbia'.
The witness is a former Serbian State Security Service employee who went on to embark on an academic career at the Police Academy in Belgrade. Milosevic worked in the State Security Service in the first half of 1990s, when Stanisic and Simatovic were its chiefs and when, according to the indictment, the police and paramilitary units under their control perpetrated the crimes in Croatia and BH. Milosevic contends that he was involved in education and didn't receive any intelligence. This is why, as defense counsel Vladimir Petrovic explained, the report contains 'a theoretical analysis of the relevant legislation' and the witness 'mentioned in passing the context' by referring to some specific events in the field. The witness said he was not on good terms with the accused and that Simatovic's defense had contacted him 'as a public figure' after they found his data on the Internet.
In his theoretical analysis, the witness said that the State Security Service was part of the Serbian MUP. The service, whose chief reported to the government and the interior minister, was based on the principles of secrecy, subordination, professionalism and cost-effectiveness, the witness said.
Commenting on the provisions in the Police Act of the Republic of Serbia, Milosevic said that the act advocated the cooperation with other republics in the SFRY and had an 'integrative character'. Sometime later, in October 1992, the Serbian MUP took over the federal police building and integrated the federal personnel into the Serbian MUP; this included the state security service personnel. According to the witness, it was an exercise designed to 'streamline the operation and cut costs'.
As counsel Petrovic indicated, he would take less than the six hours allotted to him to examine the witness hours. Jovica Stanisic's defense lawyer is expected to begin the cross-examining the witness tomorrow, and then the prosecution will have its turn.