Home
KARADZIC'S INTERCEPTED COMMUNICATIONS REMAIN IN EVIDENCE
The Trial Chamber denied yet again Radovan Karadzic's motion to "exclude all intercepted conversations prior to 6 April 1992" from the record. Karadzic also asked the judges to review the Registry's decision not to appoint Luka Bogdanovic and Dragomir Keserovic as investigators in Karadzic's defense team because of their roles in the conflict in BH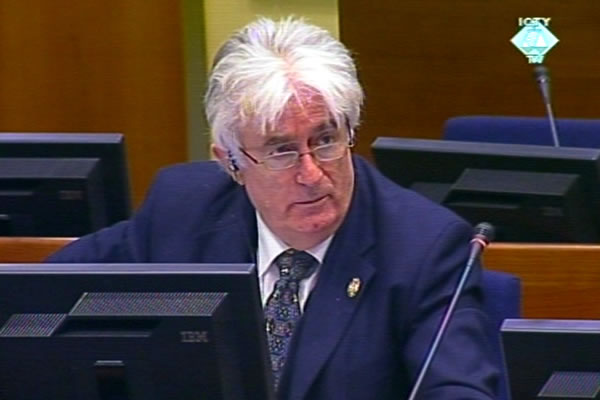 Radovan Karadzic in the courtroom
Judge Kwon's Trial Chamber dismissed Radovan Karadzic's motion for reconsideration of decision on motion to exclude all intercepted conversations prior to 6 April 1992. A similar motion was already dismissed in September 2010. In its decision on the first motion, the Trial Chamber explained that the accused had failed to make clear why the admission into evidence of the recordings of intercepted conversations 'would seriously damage the integrity of the proceedings'. Karadzic claimed that pre-war intercepted conversationswere in violation of Bosnian law and the universal principles of the right to privacy.
In March 2012, the accused once again filed a motion calling for reconsideration of the previous decision. Karadzic argued that there had been no court order authorizing the interception of his communications before 6 April 1992 and that such audio surveillance violated the Constitution of Bosnia and Herzegovina in force at the time. In Karadzic's opinion, the decision had to be reconsidered in order to 'prevent an injustice" and in particular to prevent 'the rewarding of those who had violated the law by allowing the fruits of their illegal wiretapping to be used as evidence in an international criminal proceeding'.
In its decision, the Trial Chamber noted today that Karadzic had merely reiterated the same arguments about the illegality of intercepts. The Trial Chamber noted that even the legal advisor of the accused admitted that such a motion would most likely be rejected, thus bringing into question the utility of filing such a motion.
Today, Karadzic submitted yet another motion to the Tribunal's President asking him to review the Registry's decision not to appoint Luka Bogdanovic and Dragomir Keserovic as investigators in Karadzic's defense team. In his decision, the Registrar noted that at the times relevant for the indictment, Bogdanovic and Keserovic held posts in the Bosnian Serb army and police; this fact made them 'unsuitable' and they could not be appointed to a defense team funded by the Tribunal.
According to the CVs of the ill-fated investigators appended to Karadzic's motion, during the war, Keserovic served as the chief of the military police in the intelligence and security department of the VRS Main Staff. Bogdanovic was the chief of the Bratunac public security.