Home
KARADZIC'S MOTION TO RECALL 12 'MUNICIPALITY WITNESSES' REJECTED
The Trial Chamber has denied Radovan Karadzic's motion to recall 12 witnesses who testified about the crimes committed in the municipalities listed in the indictment because he wanted to further cross-examine them in The Hague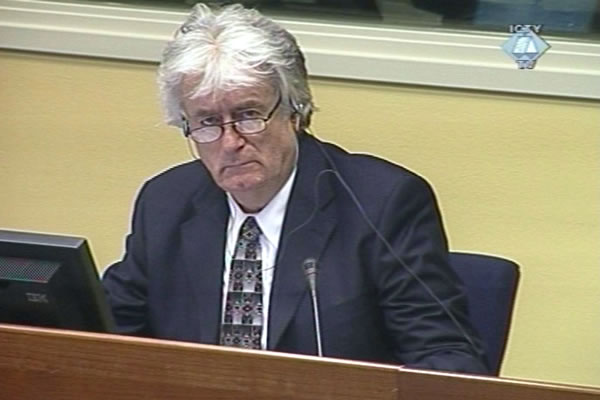 Radovan Karadzic in the courtroom
The Trial Chamber of Korean judge O-Gon Kwon denied the motion filed by former Republika Srpska president Radovan Karadzic to grant him leave to further cross-examine 12 witnesses who testified about the accusations related to the crimes of the Serb forces in the municipalities listed in the indictment.
In early December 2011, Karadzic asked the Trial Chamber to recall Eset Muracevic, Ramiz Mujkic, Sulejman Crncalo, Tihomir Glavas, Nedjeljko Prstojevic, Dragan Vidovic and six protected witnesses because he wanted to show them documents that the prosecution had disclosed to Karadzic with delay.
In its decision, the Trial Chamber said that the prosecution did violate its disclosure obligations but the delay didn't have a detrimental impact on the cross-examination of witnesses. As the Trial Chamber noted, Karadzic has already cross-examined all 12 witnesses and has had an opportunity to show the documents disclosed with delay to some other witnesses but has failed to do it.
The Trial Chamber concluded that none of the documents Karadzic listed in his motion would be significant to assessing an important part of the witnesses' evidence.Purported inconsistencies between the content of the documents and the testimony of the witnesses are of a 'minor' nature and it was not considered necessary to recall and re-examine the witnesses.