Home
WITNESS: SERB OFFICERS TOLD US THEY WANTED SREBRENICA FOR THEMSELVES
Colonel Josef Kingori continued his evidence at the trial of Radovan Karadzic. As Kingori said, high-ranking VRS officers he and other UN military observers talked to clearly told them that they 'want Srebrenica only for Serbs' and that they would 'cleanse' it of Muslims. This meant 'killing' the Muslims, the witness explained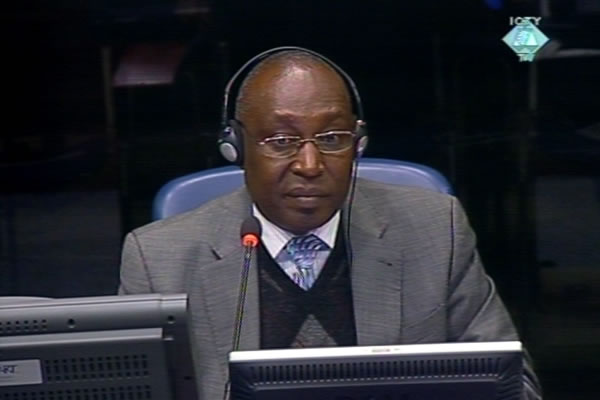 Josef Kingori, witness at the Radovan Karadzic trial
At the trial of Radovan Karadzic for genocide in Srebrenica and other crimes committed by the units under his command in BH, a written statement of retired Kenyan colonel Josef Kingori was admitted into evidence. Kingori's written statement was based on his previous testimony at the trials of Krstic, Popovic and Tolimir.
The former UN military observer said in his testimony that the VRS shelled Srebrenica from 6 July 1995 onwards in order to force the people out of the enclave and this is what eventually happened. As Kingori said, high-ranking VRS officers he and other UN military observers talked to clearly told them that they 'want Srebrenica for Serbs only' and that they would 'cleanse' it of Muslims. This meant 'killing' the Muslims, the witness explained.
In the cross-examination, Karadzic tried to contest Kingori's claims; he put it to the witness that the officers who met with Kingori and other military observers, such as Colonel Vukovic and Major Nikolic, were not authorized to make such major decisions. Karadzic tried to prove that Srebrenica had never been demilitarized and that the well-armed 28th Division of the BH Army was active in the enclave. The troops left the enclave 'round the clock', under the noses of the international forces, attacking and looting Serb villages, Karadzic argued.
Kingori said he had seen no well-armed division in Srebrenica. The Kenyan colonel estimated that at the time a division could only have existed in Srebrenica 'on paper'. Karadzic went on to show the witness a document from February 1995 about the arms supplies for the 28th Division. 'If we compare this with what the VRS had available at the time, this is peanuts', the witness remarked.
Kingori dismissed Karadzic's claim that the UN and the Muslim government 'planned' the exodus of the people from Srebrenica and that 'the Serbs were the only ones who kept quiet and waited to hear what the Muslims would say'.
Radovan Karadzic will continue cross-examining the Kenyan colonel tomorrow morning.