Home
PRISON CAMPS WERE PART OF POLICY OF ETHNIC SEPARATION
Military expert of the prosecution Ewan Brown continues his evidence at the trial of Radovan Karadzic. Brown said that prison camps Manjaca, Omarska, Keraterm and Trnopolje were a 'part of the policy of separation' of Serbs from other nations in BH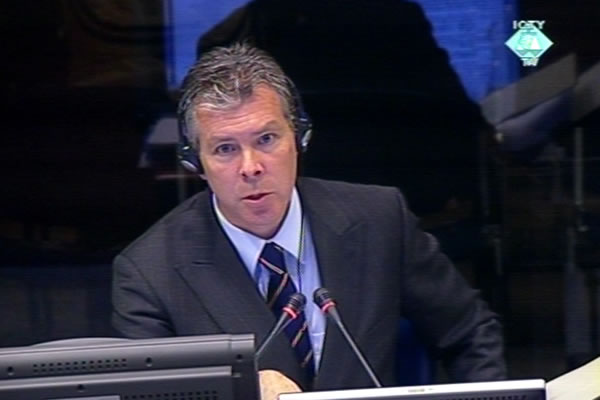 Ewan Brown, witness at the Radovan Karadzic trial
Prosecution military expert Ewan Brown said in his evidence at the trial of Radovan Karadzic that the first strategic goal – separating Serbs from Muslims and Croats – was crucial for the political and military leadership of Republika Srpska. The implementation of the goal called for the expulsion of the non-Serbs from large parts of BH territory the Serbs considered their own, the witness explained.
The army helped disarm and evacuate the non-Serbs from the Bosnian Krajina; the whole process was carried out in line with the decisions of the Autonomous Region Krajina. Prison camps – Manjaca, Omarska, Keraterm and Trnopolje – were part of 'a planned effort to expel the non-Serbs' from the Bosnian Krajina. The witness says in his expert report that prison camps were 'part of the policy of separation' of the Serbs from the two other ethnic communities in Bosnia and Herzegovina.
In his report, Military Situation in the Bosnian Krajina, Brown spoke about the Manjaca prison camp several times. Based on the documents he studied, Brown says that the 1st Krajina Corps obviously knew that for many of the prisoners detained in the camp there was no evidence that they had taken part in the armed conflict. Nevertheless, the 1st Krajina Corps decided to keep them in the prison camp where food and water were scarce and where they were subjected to abuse.
A report of the 1st Krajina Corps on 3 September 1992 says that UN special rapporteur Tadeusz Mazowiecki was denied access to the Manjaca prison camp. Mazowiecki was concerned about possible violations of the prisoners' human rights. The document notes that Mazowiecki was prevented from entering the prison camp under the pretext that he had not been authorized to do so by the Serb government. Mazowiecki was told he should pay more attention to 'the rights of the Serb people'.
In his evidence at the Karadzic trial, Brown recalled that the prisoners were not released from Manjaca before December 1992, stressing that the Serb authorities did not allow the prisoners to return to their homes but transferred them out of the Bosnian Serb-controlled territory.
In his cross-examination, Karadzic argued that the Serb deputies from the municipalities with a Muslim or Croatian majority for the most part argued in the Assembly that 'their region should also become part of the Serb republic'. He personally 'fought against this megalomania', Karadzic insisted, and was in favor of the Serbs taking only those municipalities where they were in the majority. The witness disagreed with Karadzic's claim. In the summer of 1992, many municipalities like Bosanska Krupa, Sanski Most and Doboj were taken over despite the fact that they didn't have a Serb majority, the witness said.
Karadzic will continue his cross-examination of the prosecution military expert on Tuesday, 22 November 2011.