Home
PRISONER OR WITNESS OF A CRIME
The trial of Radovan Karadzic continued today with the testimony of Grgo Stojic from Sanski Most. Stojic testified about the execution of a group of Croatian civilians on 2 November 1992. Karadzic claims that 'out of control' paramilitary formations were responsible for the crime and argues that Stojic was not held prisoner in Banja Luka hospital but was treated as a "witness of a crime"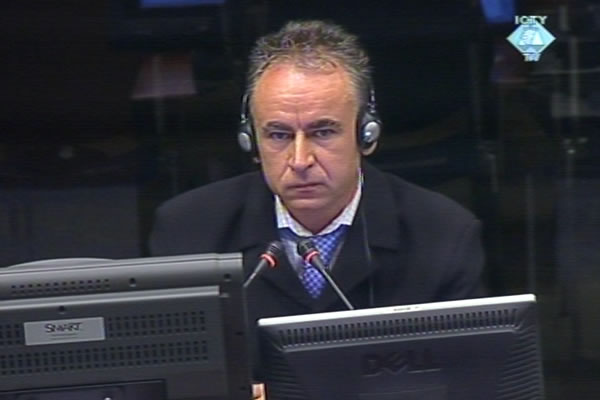 Grgo Stojic, witness at the Radovan Karadzic trial
Bosnian Croat Grgo Stojic from Sanski Most is the only survivor of the execution of approximately seven people on 2 November 1992 near the village Skrljevita.This incident is described in the indictment against Radovan Karadzic. The Chamber admitted into evidence the transcript of Stojic's previous testimony at the trial of Radoslav Brdjanin, former president of the so-called Autonomous Region of Krajina who was sentenced to 30 years in prison for crimes committed in north-western Bosnia and Herzegovina.
The witness and his cousin were arrested on 2 November while going back from the market in Sanski Most. Two Serb soldiers ordered them to join the group of several Croat men and after that they were lined up, robbed, beaten and shot. The witness had injuries in the left upper arm, abdomen and hip. He searched for help in a near-by village and was transferred to local health care center in Sanski most and then to Banja Luka where he was operated on.
The witness claims he was held prisoner in one of the hospitals' rooms after the procedure. The soldiers went inside this room whenever they wanted and beat him. The hospital staff knew what the soldiers had been doing, the witness claims. Stojic was freed on 11 December 1992 and transferred to Croatia with the convoy from Caritas. The consequences from the injuries inflicted on him and the time spent in prison were grave; the witness still has nightmares, permanent disability and he is completely dependent on others.
Karadzic used cross-examination to prove that the soldiers that arrested the witness and executed the men were part of paramilitary formations that were "out of control". He claimed that Stojic was taken care of and "safeguarded" in Banja Luka hospital because he was "a troublesome witness of the criminal deeds in Sanski Most". Stojic said that not even for a moment he felt as a witness but rather as a "prisoner". He stressed that he was locked in a hospital "cell" and everybody could enter this space and beat him, with the permission of the guards.
The trial of Radovan Karadzic for genocide and other crimes in BH continues tomorrow with the evidence of a new witness.