Home
METHODS OF TORTURING MUSLIMS IN ROGATICA
The trial of former Republika Srpska president Radovan Karadzic continued with the evidence of Sefik Hurko from Rogatica. Hurko described the cruel abuse he suffered together with his father and uncle after their arrest in mid-August 1992. Serb soldiers first 'cut his father's ears' and then forced the witness to eat bullets. The witness's hands were stabbed with a knife and he was beaten brutally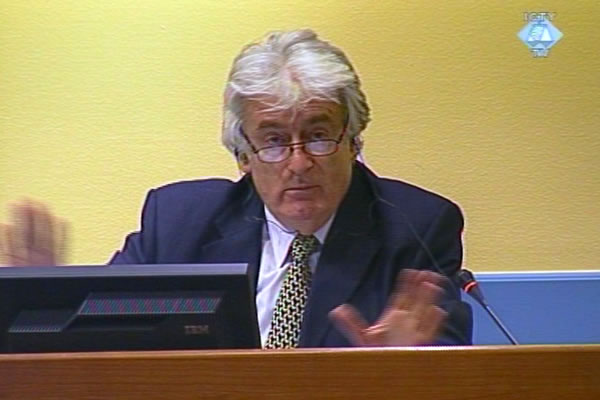 Radovan Karadzic in the courtroom
On 14 August 1992, Serb troops arrested Sefik Hurko from Rogatica together with his father, mother and uncle. They were held prisoner in Mico Andric's garage in the village of Kosovo. Rajko Krsmanovic, Stojan Perkovic and several other Serb soldiers under the command of Rajko Kusic cruelly abused the prisoners there. Kusic introduced himself to the prisoners as the commander of the Serb forces in Rogatica.
'Rajko Krsmanovic approached my father, ordered him to stick his tongue out as if he meant to cut it off. Krsmanovic then took out his knife and started cutting my father's ears'. The witness's father fell to the ground, covered in blood. Krsmanovic turned to the witness and forced him to eat three or four pistol rounds and then started stabbing his hands with a knife, the witness described. Finally, Krsmanovic beat the witness.
As the witness recounted, Krsmanovic and Perkovic took his uncle Abdulah Hurko out to the yard and beat him too. He never saw his uncle again. The witness believes that he was killed that day. Rajko Kusic participated in the interrogation of the witness and was present while the Serb soldiers abused various members of the witness's family in Mico Andric's garage. Kusic escorted them all to the high school in Rogatica where they were detained again.
According to the summary of his written statement that was admitted into evidence, the witness and his father were moved from the Rogatica high school to the Rasadnik prison camp. In 1992 and 1993, the witness saw Kusic five or six times in Rasadnik. It seemed to the witness that Kusic had complete control over the prison camp. Kusic appointed prison camp warden Vinko Bojic, who humiliated and abused the detained men and women. They were beaten, tortured and sexually assaulted.
At one point, Hurko and other prisoners were taken from Rasadnik to the Batkovic prison camp near Bijeljina. They were supposed to be exchanged from there, but the exchange failed and they were taken back to Rasadnik. The witness spent a total of 20 months there. In late April 1994, the witness and a group of prisoners, including women and children, were transferred to the Kula Penitentiary and Correctional Facility. The witness was exchanged on 5 October 1994.
The Trial Chamber granted Karadzic's request to postpone the cross-examination of Sefik Hurko until Monday, 5 September 2011, because of the late disclosure of the witness's written statement. The trial then proceeded in closed session with the evidence of a protected witness testifying under the pseudonym KDZ 606.