Home
PROSECUTION EXPERT ON THE SPLIT IN BH MUP
At the trial of Radovan Karadzic, protected witness KDZ 240 completed his evidence today. His entire testimony went on in closed session. The next witness is a prosecution expert who wrote a report on the split in the BH police and the establishment of the Serb MUP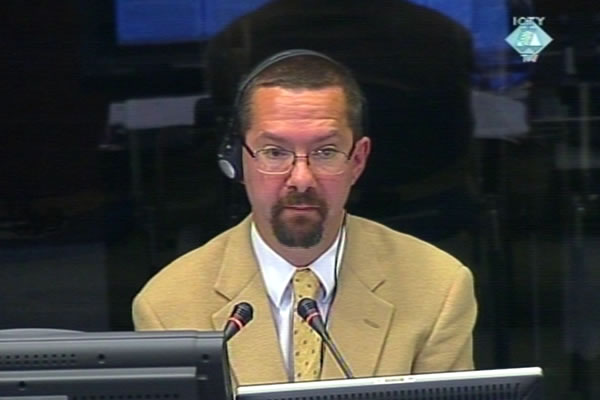 Christian Nielsen, witness at the Radovan Karadzic trial
At the trial of Radovan Karadzic Christian Nielsen, former OTP investigator, began his evidence today. Nielsen studied the split in the BH police and the establishment of the Serb MUP. The witness had previously testified about that at the trials of Momcilo Krajisnik, Mico Stanisic and Stojan Zupljanin.
In a report entitled The Bosnian Serb Interior Ministry, he covers the period from the first multi-party elections in 1990 to the end of 1992. He highlights the reasons why Serbs decided to establish their own MUP. The main goal of the report was to provide a comprehensive picture of the way in which the RS MUP functioned, he explained.
Based on the available documents, the prosecution expert concluded that Karadzic, as the president of the Serbian Democratic Party, was actively involved in the negotiations held in 1991 about the division of power in the BH MUP as it was at the time, together with deputy interior minister Vitomir Zepinic.
According to the witness, as time went on, Karadzic was increasingly displeased with the way in which Zepinic worked for the Serb cause, and he increasingly involved the deputy interior minister Momcilo Mandic in the process. Karadzic and Mandic were 'micro-managing' on behalf of the SDS the process of appointing Serb personnel in the joint MUP.
In the fall of 1991, the discontent among the Serbs grew and they started considering an 'alternative' way to safeguard the Serbs' rights, which called for a decentralization of the BH MUP. One version of this process called for a secession of the Serb MUP, and this was implemented in line with the Instruction of the SDS Main Board of 19 December 1991, the document known as the Variant A and B.
Christian Nielsen continues his evidence tomorrow.