Home
KARADZIC'S VERSION OF HISTORY AND REALITY
In the final part of the cross-examination of prosecution political expert Patrick Treanor, former Republika Srpska president Radovan Karadzic presented his well-known version of history in which Serb leaders 'looked forward to living together with Croats and Muslims' and did everything to keep peace. According to Karadzic, Serb leaders even renounced their demand that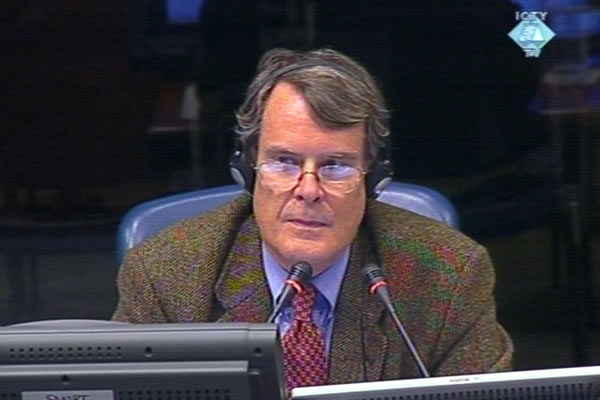 Patrick Treanor, witness at the Radovan Karadzic trial
In the final part of the cross-examination of prosecution political expert Patrick Treanor, former Republika Srpska president Radovan Karadzic presented the same version of events that had led to the war in BH as he did during the testimony of historian Robert Donia. Karadzic even mistakenly addressed the witness as Mr. Donia several times. Karadzic is on trial for genocide and other crimes in BH.
Karadzic tried to convince the judges in the Trial Chamber that his version of history was true. Karadzic claims that Serb leaders 'looked forward to living together with Croats and Muslims', advocating peace, 'never calling for war' until 27 March 1992. The Serb side 'renounced' its demand that BH in the former Yugoslavia, provided that it was restructured. All three sides 'agreed' to the restructuring on 18 March 1992 when the so-called Cutilheiro Plan was signed, but Alija Izetbegovic then reneged on it and 'chose war'.
The prosecution political expert repeated several times that the primary goal of the Serb leadership was to keep BH in the former Yugoslavia. After the November 1991 plebiscite at which the Serbs voted to stay in Yugoslavia, they decided to define the Serb territory in BH; their ultimate goal was to annex that territory to Yugoslavia at a later stage. The view that this territory would be annexed to Yugoslavia was not 'aired in public'. As the witness also said, the so-called Cutilheiro Plan was just a basis for further negotiations; Treanor said that the final agreement was never achieved.
In the final part of the cross-examination Karadzic contested the witness's claims that in 1992 the Serb leadership implemented a regionalization policy by establishing autonomous regions in 1992. The accused tried to show that the Serb autonomous regions didn't really function; they were, as he called them, 'paper regions'. The Autonomous Region of Krajina was an exception; according to Karadzic, it 'was organized as a state within the state'. The RS Assembly decided in September 1992 to centralize power and to abolish regions in order to be able to exert 'better control', Karadzic put it to the witness. 'Yes', the witness agreed, noting that by that time the regions had already served their purpose, which was to dismantle what the Serbs at the time called 'Alija's state'.
In the re-examination, prosecutor Alan Tieger quoted Karadzic's speech before the self-proclaimed Serbian Assembly of Bosnia on 21 December 1991, where Karadzic said that Serbs had the right to prevent the secession from Yugoslavia of any part of BH with even a 5 percent Serb minority. The witness confirmed that one could conclude from this speech that Serbs laid claim to large parts of BH. The witness also recalled that Karadzic often insisted that Serbs owned 64 percent of land in BH, which indicates the scope of the territorial aspirations harbored by the Serb leadership.