Home
CRISIS STAFFS IN 'ROUGH AND HARD TIMES'
Tihomir Glavas, prosecution witness at the trial of Radovan Karadzic, says that the crisis staff had 'legislative and executive powers'. As a police chief, Glavas couldn't and didn't want to do anything without first getting its decision. 'The times were rough and hard and people were unwilling to assume any responsibility. I didn't want to rush in and I always demanded to get a decision in writing', Glavas said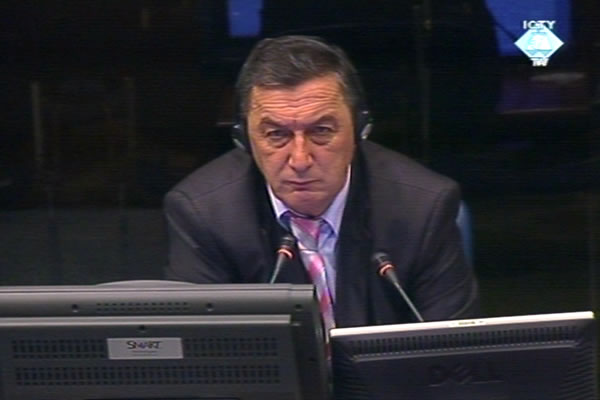 Tihomir Glavas, witness at the Radovan Karadzic trial
Former chief of the Public Security Station in the Sarajevo municipality of Hadzici Tihomir Glavas began his evidence at the trial of former Republika Srpska president Radovan Karadzic. With Glavas's testimony, the prosecution has moved on to the part of its case that concerns the organization and powers of crisis staffs. At the beginning of Glavas's evidence, prosecutor Carolyn Edgerton read the summary of the statement he gave the OTP investigators in 2011.
According to the witness, the crisis staff was the 'highest legislative and executive power in Hadzici'. Established in April 1992, the crisis staff wielded 'full powers in the civilian, military and police spheres'. Glavas couldn't – and didn't want to – launch any police actions without a prior decision of the crisis staff. 'Those were rough and hard times, and people were unwilling to assume any responsibility. I didn't want to rush in, and I always demanded to get a decision in writing', Glavas said. The crisis staff also decided on establishing detention centers, on the security therein, and the transfer of prisoners.
As Glavas noted, the crisis staff included the president of the municipality, the president of the executive board and the representatives of the army and police. In the case of Hadzici, a representative of the Repair and Maintenance Facility was also in the staff. As the police chief, Glavas was supposed to participate in the work of the crisis staff but he often delegated his police station commander to stand in for him there. The dissent between the witness and the political leadership in Hadzici reached its peak in August 1992. Glavas then moved to the Public Security Station in Ilidza. In that period, there was 'rule of law' and the police relied more on the Interior Ministry than on the Crisis Staff, the witness said.
In the first part of his cross-examination, Karadzic focused on the multi-ethnic composition of the police before the conflict, the early days of the effort to distribute arms to the 'Bosniak part of the population' and the division in the police. As Glavas recounted, the division in Hadzici started after his speech in which he noted that other municipalities too 'were splitting down the ethnic seams, that the police force must be divided, but it must be done in a smart and commonsensical way'. A 'distressing situation' ensued: people threatened to use hand grenades, but the conflict was finally resolved and the police force was divided.
Glavas's cross-examination will resume tomorrow after Karadzic finishes cross-examining British general Rupert Smith, former UNPROFOR commander in Bosnia and Herzegovina.