Home
KARADZIC NOT CONVINCED ABOUT AUTHENTICITY OF PROSTHETIC LIMB FROM MARKALE
In the cross-examination, Radovan Karadzic tried to contest the evidence of Almir Begic, who had confirmed that the plastic prosthetic leg seen in the videos of the aftermath of the first Markale massacre on 5 February 1994 belonged to his father Camil. Camil Begic was killed in the incident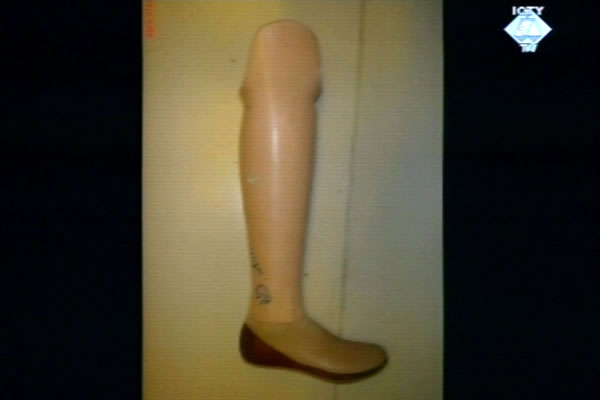 Artifichal leg from "Markale" video
'That prosthetic leg belonged to my father', Almir Begic from Sarajevo repeated his claim several times at the trial of former Republika Srpska president Radovan Karadzic. Karadzic contends that the plastic prosthetic limb had been 'planted' at the Sarajevo's Markale town market to 'denigrate' the Bosnian Serbs.
In the examination-in chief, the witness confirmed that his father Camil died in the explosion of a mortar shell at the Markale town market on 5 February 1994. The marks left by the shrapnel are visible on the prosthetic limb on the photos shown today in court. The witness's farther and sixty others died in the explosion, and more than 150 were injured.
In his opening statement, Karadzic showed a report in which Risto Djogo, wartime editor of the Pale TV station, brandished photos of the plastic prosthetic limb and ridiculed the victims of the Markale incident, claiming those had been 'plastic dummies'. When the witness saw this, he went to the police and said that the prosthetic leg belonged to his father. The witness was then called to The Hague to give evidence.
In his effort to contest the witness's evidence, Karadzic showed an old photo of Camil Begic standing at a bridge. Karadzic enclosed a table stating the 'average' height of the bridge rail and the length of a human lower leg, implying that Camil Begic was not about 180 cm tall as the witness had stated. 'Well, I should know how tall my late father was, shouldn't I', the witness retorted.
Karadzic went on to claim that the prosthetic leg could not have belonged to the witness's father, as in his expert opinion as 'a medical doctor', it was unsuitable for a person whose foot had been amputated. Revolted by Karadzic's medical speculations, the witness was allowed by the judges to stand up at the witness stand and to demonstrate on his own leg where exactly his father Camil's leg had been amputated.
Begic dismissed Karadzic's claims about the town market being 'deserted'. As Begic said, he was at the Markale marked that day, and people were selling or swapping lots of cans, flour, cigarettes and other items. The witness explained that the videos showing a deserted market were taken after the massacre, after the bodies had been removed and the blood washed away.
Before leaving court, Begic said he still had the prosthetic limb, offering to send it to The Hague if necessary.