Home
KARADZIC REFUSES TO BUDGE ON CLAIMS ABOUT 'STAGED' MASSACRES
Crime technician in the Sarajevo Security Services Center Sead Besic rejected Radovan Karadzic's claims that the BH Army 'staged' the two massacres at the Markale market. Nedzib Djozo, a police officer from Sarajevo who took part in investigations of sniper and artillery incidents and was himself wounded in a mortar attack, began his evidence today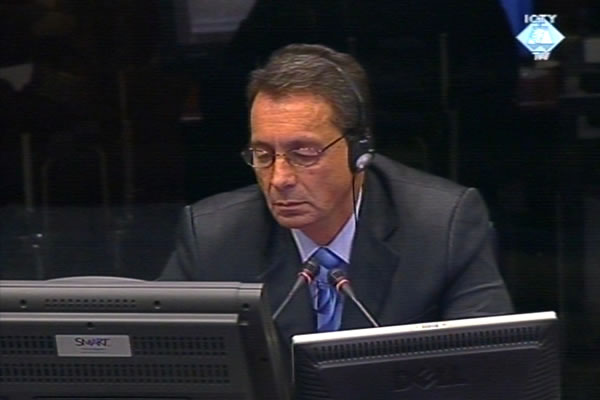 Nedzib Djozo, witness at the Radovan Karadzic trial
Radovan Karadzic continued his cross-examination of crime technician in the Sarajevo Security Services Center Sead Besic, in an effort to prove that the BH Army 'staged' the two massacres at the Markale market on 4 February 1994 and 28 August 1995.
According to Karadzic, the incidents at Markale were purportedly 'staged' before the Security Service Center investigation team arrived at the crime scene when 'somebody planted' old bodies of soldiers among the victims. Karadzic illustrated his claims with the audio recording of a Sarajevo citizen who called Hayat radio. The man said he had been at Markale at the time of the explosion and was able to count 25 dead people. Karadzic argues that this casts doubt on the police report about more than 60 people killed in the incident.
The witness argued that the audio recording Karadzic played didn't indicate there was any difference between what could be seen at the crime scene and the official reports on the number of victims. The witness explained that about 30 people were killed on the spot at the town market. Those that died on the way to hospital or in hospital were added to the tally later.
The witness didn't agree with Karadzic's claims that the stabilizer of the fatal shell –shown several times in the courtroom – was not identical to that shown on the photos taken by the Security Services Center personnel at Markale. The witness likewise dismissed Karadzic's claim that the site of the explosion had been 'altered' before the Sarajevo police and UN staff arrived. He disagreed with the accused that a plastic prosthetic leg seen in the footage had been 'placed' at Markale after the explosion.
Karadzic played a video recording of the investigation conducted after the second Markale incident in August 1995; Besic had copied the footage from the Sarajevo MUP archives and delivered it to the OTP. A part of the recording was played in closed session as the witness testifying with image distortion as a protective measure is visible in a number of scenes.
After Sead Besic completed his evidence, the prosecution called its next witness, Nedzib Djozo. Djozo himself was injured in front of the Stari Grad police station where he worked by a VRS mortar shell. Djozo was involved in a number of investigations of artillery and mortar incidents in Sarajevo and has already testified at the trials of generals Dragomir Milosevic and Momcilo Perisic. Djozo continues his evidence tomorrow.