Home
KARADZIC TRIAL ADJOURNED FOR A MONTH
The Trial Chamber ordered a one-month adjournment of Radovan Karadzic's trial to allow the accused to inspect the evidence the prosecution has disclosed to him with delay. Another Sarajevo police officer involved in investigations of sniper and artillery incidents testified today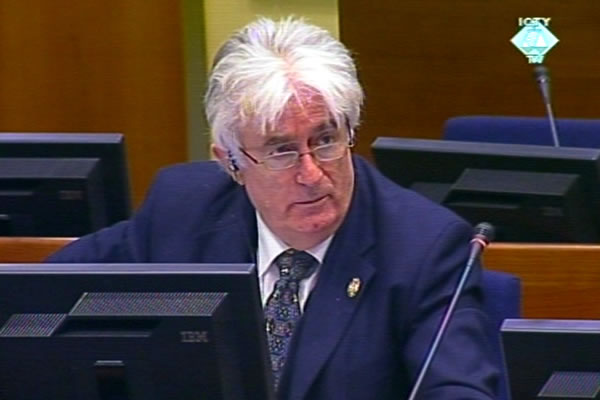 Radovan Karadzic in the courtroom
The Trial Chamber with Korean judge O-Gon Kwon presiding decided to adjourn the trial of Radovan Karadzic for one month to allow the accused to inspect about 14,000 pages of potentially exculpatory material the prosecution has disclosed to him with delay in October 2010.
The trial will be adjourned after the testimony of the remaining prosecution witnesses scheduled for this week and those slated for next week who are either already in The Hague or are on their way. The Trial Chamber left open the possibility that some of the planned witnesses might be heard during the one-month break if the prosecution shows cause as to why their evidence cannot be postponed.
When it deliberated whether to adjourn the trial, the Trial Chamber took into account the substantial number of violations of the disclosure obligation in the trial so far. Although this did not prejudice the accused, as Judge Kwon put it, the Trial Chamber is 'concerned about the potential cumulative effect of late disclosure on the fairness of the trial'. The prosecution was once again asked to 'take seriously' its obligation and to ensure prompt disclosure of the evidence to the accused.
Today the prosecution called to the witness stand an inspector in the homicide division of the Sarajevo Security Services Center who is testifying under the pseudonym KDZ-485. From April 1994 to the end of the war, the witness took part in crime scene investigations of numerous artillery and sniper incidents in Sarajevo. The witness secured the crime scenes and made sure that the forensic technicians and ballistic experts could do their job. Witness KDZ-485 already testified at the trials of Dragomir Milosevic and Momcilo Perisic.
According to the summary the prosecutor read today, the witness was involved in the crime scene investigation of four incidents listed in the indictment: the incident in which civilians were hit in a tram on 8 October 1994, the shelling of the flea market in Bascarsija on 22 December 1994, the impact of a modified air bomb in the Safeta Zajke Street on 26 December 1994 and the shelling of the Markale town market on 28 August 1995. The investigation teams of the Security Services Center in Sarajevo established in all four cases that the fire had come from the territory controlled by the VRS.
At the beginning of the cross-examination, Karadzic contested the validity of the Sarajevo investigations, noting that the witness and other members of the investigation teams were not expert enough to do the job. Karadzic went on to claim that the investigators 'altered the crime scene' and made a number of mistakes, which makes the reports of the Sarajevo investigation teams not valid as evidence in criminal proceedings.
Radovan Karadzic will continue his cross-examination of witness KDZ-485 tomorrow morning.