Home
NEW DETAILED SEARCH OF EU ARCHIVES YIELDS NO RESULTS
In its latest letter, the EU Council has stated that Gotovina's defense has been given more than 10 reports produced in August 1995 by the European monitoring mission's Knin Regional Center, but there are no clear indications that the Knin observers did actually put together a logbook at all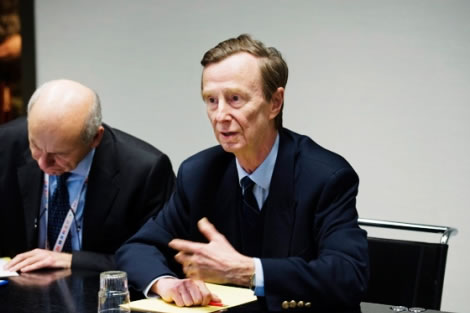 Pierre de Boissieu, EU council Secretaries General
The Secretary-general of the EU Council Pierre De Boissieu informed the Tribunal about a detailed search of the European archives aimed at locating a logbook produced by the European observers in the Knin Regional Center. Ante Gotovina's defense contends that the logbook was drafted in August 1995. In his letter, Boissieu says that the last search was undertaken from 23 to 25 June 2010 and reminds the judges that more than 200,000 documents have been inspected since April 2009. The controversial logbook has not been recovered.
The letter states that the defense has been given more than 10 reports produced in the relevant time period in the Knin Regional Center, but there are no reliable indications that the Knin observers had put together their logbook at all or that it has been forwarded to the European archives after the mission in Croatia was completed. Boissieu also noted that contrary to the claims made by Gotovina's defense, there is no evidence that each European observers' regional center in Croatia maintained a detailed 'hour to hour' log book. The EU Council has advised the judges to contact EU members and ask them to search their national archives if it considers it necessary.
Boissieu addressed his latest missive to Judge Patrick Robinson, who is the presiding judge in the Appeals Chamber seized of the motion filed by Gotovina's defense to rescind the decision of the Trial Chamber of June 2010. In the decision, the Trial Chamber rejected the defense's request to order the EU Council to investigate the 'chain of custody' of the controversial document. The defense filed this motion although Boissieu had submitted a detailed report on the efforts to search and locate the logbook.
Generals Ante Gotovina, Ivan Cermak and Mladen Markac are charged with their participation in the joint criminal enterprise to permanently eliminate Serb civilians from the liberated Krajina territory in the summer of 1995. As alleged in the indictment, the goal was implemented by 'force, intimidation, persecution, forcible transfer, deportation, looting and destruction of property' of Serb civilians, and it could have been foreseen that the murders and inhumane and cruel treatment would be 'a possible consequence of the implementation of the aim of the joint criminal enterprise' headed by Croatian president Franjo Tudjman.
The trial opened on 11 March 2008. In more than two trial years, a total of 303 working days, 145 witnesses gave evidence. The defense and prosecution will deliver their closing arguments from 30 August to 2 September 2010 before the Trial Chamber with Dutch judge Orie presiding.