Home
MANDIC: CUTILEIRO DEVISED THE SEPARATION OF PEOPLES
According to Radovan Karadzic and witness Momcilo Mandic, Bosnian Serbs 'did not want to separate' from the other two peoples in BH in order to create 'an ethnically pure Serb state'; they advocated a solution which would not result in them becoming an ethnic minority. According to Mandic, 'the international community and Cutileiro' proposed the separation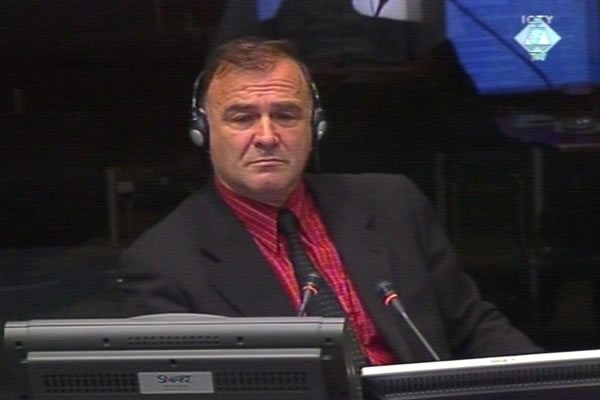 Momcilo Mandic, witness at the Radovan Karadzic trial
As Radovan Karadzic continued his examination of Momcilo Mandic, he spoke about the difficulties he and other Bosnian Serb leaders faced in building the 'rule of law', as he called it, and the judiciary of the self-proclaimed Serbian Republic of Bosnia and Herzegovina, later renamed as Republika Srpska.
Denying the prosecution's claims that he was a key figure in the joint criminal enterprise to forcibly and permanently remove Bosnian Muslims and Croats from large swathes of BH territory in order to create 'an ethnically pure Serb state', Karadzic said the Serbs 'did not want to separate'. 'We always made it clear that if Bosnia were to leave the federal state, we wanted to separate from the majority parts of BH in order to avoid what the Muslims wanted to avoid in Yugoslavia – being a minority', Karadzic said.
According to Mandic, this was in fact a proposal of the international community and Cutileiro, aimed at 'avoiding a situation where one side would be a majority and would be able to vote out the others in all the institutions and levels of government in BH', but, after a while, 'the Muslims rejected it, on someone's urging, unlike Serbs and Croats who still favored the agreement'.
Karadzic then spoke at length about the abolition of crisis staffs in Republika Srpska and the 'risky business' of appointing ethnic Croats and Muslims as judges and prosecutors in the municipalities under Serb control. According to Mandic, Karadzic advocated a 'multi-ethnic' personnel policy in the judiciary, and this met with the opposition of some members of the Assembly. Because of the opposition, the Muslims and Croats were disqualified: 'not permanently, but temporarily, until the conditions were ripe for their employment'.
With Mandic's assistance, Karadzic tried to convince the judges that communications were down during the fighting and this prevented the government from knowing what was going on in the field, in particularly in remote municipalities. Karadzic was thus forced to issue instructions to the local authorities through the Serb news agency, SRNA. An instruction of this kind, showed today in court, pertained to the protection and care of all wounded persons, regardless of what side they were on, humane treatment of prisoners and protection of civilians.
Karadzic asked Mandic to confirm that 'the only strategic advantage' the VRS had around Sarajevo was the quantity of weapons. Mandic first asked Karadzic to clarify, and then said he was not familiar with the military situation around Sarajevo. Karadzic then decided to drop the subject.