Home
KARADZIC'S 'ACCURATE AND DETAILED EVIDENCE'
Using 'secret' documents of the Sarajevo-Romanija Corps and the Serbian MUP, Karadzic is trying to prove that 'Muslims from time to time shelled their own territory, their own folk and units'. Karadzic contends that the documents are 'accurate and detailed'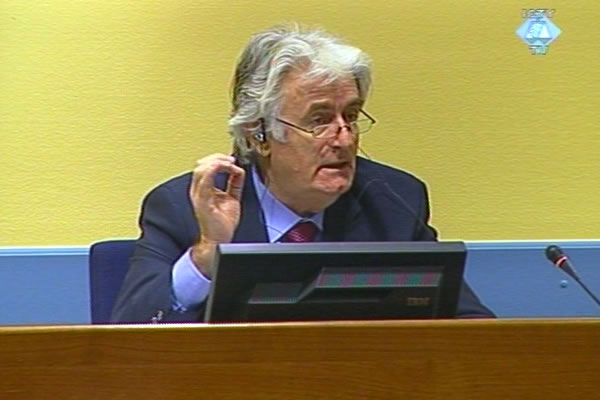 Radovan Karadzic in the courtroom
For the most part, the cross-examination of protected prosecution witness KDZ185 proceeded in closed session because of the strict protective measures the Trial Chamber granted to the former member of the UNPROFOR French contingent. Apart from pseudonym, the witness is testifying with the voice and image distortion.
In the parts of the hearing open to the public, Karadzic explored the incident on 1 June 1993, when a football pitch in Dobrinja was shelled while a game was in progress. As alleged in the indictment, two shells fired from the VRS positions killed more than ten persons and injured about 100 others.
In his examination-in chief, the witness said that the crater analysis showed that the shells had been fired from the south-east, where the VRS had its positions. Karadzic denied this claim, shifting the blame for the incident to the other side. The accused argued that 'Muslims sometimes shelled their own territory, their own people and units'.
Karadzic then asked the witness if he allowed this possibility. The witness replied that he and other members of the international forces 'on several occasions really did notice sniper activities in the city and mortar fire they were suspicious of', in terms of where it had come. The court then went into closed session.
Karadzic referred to 'secret' documents of the SRK he described as 'accurate and detailed' that show that on 1 June 1993, the day of the Dobrinja incident, the Serb artillery 'didn't open fire'. Karadzic noted that the UNPROFOR personnel investigated the crater almost a month after the incident. In the meantime, the crater edges could have been damaged, the accused argued. Karadzic also contended that the UN investigation 'is not completed' because no one from Serb side was interviewed. The BH Army had mortars positioned 500 meters from the pitch where the incident happened, Karadzic added.
Shells that hit the spectators and players at a football match in Dobrinja were discussed in with much detail at the trial of General Stanislav Galic. At the time of the incident Galic commanded the SRK. The majority of the judges found that the incident was an 'example of the indiscriminate shelling of a civilian area by the SRK'. Galic got a life sentence for that and other crimes committed by the Serb forces under his command.
Karadzic has so far used more than four out of the five hours he was given for the cross-examination of this witness. Today the Trial Chamber granted Karadzic additional time ordering him to complete the cross-examination tomorrow by the end of the second afternoon session.