Home
KARADZIC AND PROSECUTION EXPERTS' PAYMENTS
Radovan Karadzic has called on the judges to reconsider their oral decision prohibiting him this week from examining US historian Robert Donia about the payments he has received from the prosecution for his expert reports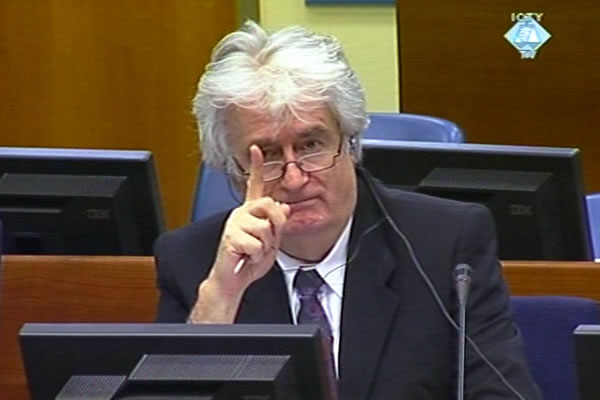 Radovan Karadzic in the courtroom
Former Republika Srpska president Radovan Karadzic has asked the Trial Chamber for leave to cross-examine Robert Donia, US historian and prosecution expert, about the payments he received for his expert reports.
Karadzic raised the issue of payments 'per case and per day' on Tuesday, 1 June 2010, at the beginning of his cross-examination of Professor Donia. Presiding judge Kwon interrupted Karadzic and decided that the topic 'is not relevant' for the trial. Karadzic is charged with double genocide and other crimes in Bosnia and Herzegovina.
Karadzic contends that the question "was relevant to the bias and motives of the witness".
Donia has already testified fifteen times for the prosecution on various cases. In Karadzic's view, the fees Donia has received for the services rendered might provide an incentive to deliver the reports that will keep the prosecution happy and thus 'keep this income stream coming from case to case and year to year'.
In a written motion published today, Karadzic referred to the decision of the Appeals Chamber in the Srebrenica Seven case, where it reaffirmed the right to question the experts' impartiality in the cross-examination by bringing up their relationship with the party that has called them.
Karadzic added that something similar to that was confirmed in the jurisprudence of the International Criminal Tribunal for Rwanda. The judges found that 'the amount of money' the insider witnesses receive have an impact on their credibility. Finally Karadzic quoted a series of judgments handed down by US courts which highlight the 'relevance' of fees for the partiality of experts.
Noting that in this case the Trial Chamber ruled without consulting the relevant jurisprudence, Karadzic called on the judges to rectify the error and allow him to question Professor Donia about the payments the expert has received from the prosecution.