Home
SPECIALS 'NOT ACCUSTOMED TO WRITING'
The witness of the Trial Chamber Branko Balunovic explained why he had drafted his report on the murder of elderly Serbs in the village of Grubori in late August 1995 the way he did. In his report Balunovic wrote that there was a clash with remnant Serb soldiers despite the fact that he hadn't seen it. Balunovic clarified that members of the special police simply 'weren't accustomed to drafting reports'. The witness admitted that this thus created 'distorted image of actual events'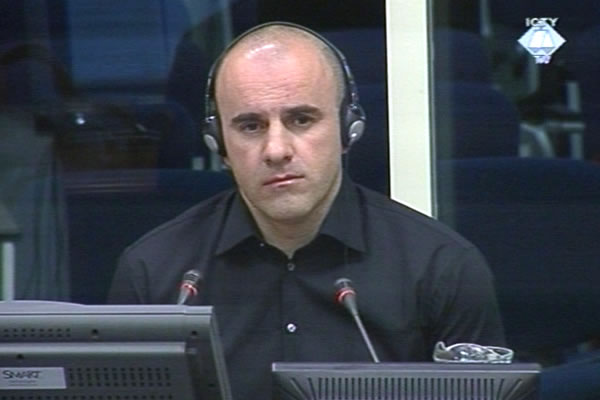 Branko Balunovic, witness at the Ante Gotovina, Ivan Cermak and Mladen Markac trial
In a brief cross-examination of prosecutor Hederaly member of the Croatian special police Branko Balunovic clearly stated that he hadn't seen remnant Serb soldiers during the mop-up operation in the Plavno Valley in late August 1995. Five elderly civilians were killed then in the village of Grubori. Despite that in his report drafted after the action in Zagreb Balunovic wrote that there was a clash between the special police and 'Chetniks' in Grubori. This was in line with the Croatia's then official position that elderly Serbs were killed in a cross-fire during combat. General Cermak put forth this view in his statement.
The defense counsel of former commander of the special police Mladen Markac in his cross-examination implied that his client was not involved with pressuring participants of the action into changing their first reports. The defense counsel laid the blame for that on Markac's deputy Zeljko Sacic and commander of the mop-up operation Josip Celic. Balunovic repeated in part what he said yesterday that he had drafted his report in Zagreb following Celic's instructions. Sacic previously dictated to Celic the 'truth about Grubori'. The witness contends that Markac wasn't involved in that as he has never heard that Markac influenced anybody to change report on the Grubori incident.
In February 2010 Balunovic said before a Croatian court that he had put into his report things that he 'couldn't say depict the actual situation in the field'. The presiding judge asked the witness why he did that. The witness replied that then he 'had no reason to doubt and didn't dare to doubt' veracity of what his superiors had said. Judge Orie wanted to know what could be purpose of such a document that purportedly delivered a report from the field while in fact it didn't convey things that the author had seen. Balunovic clarified that members of the special police then simply 'weren't accustomed to drafting reports' admitting that this thus created a distorted image of actual events.
Markac's defense counsel then pointed to a part of Balunovic's yesterday's examination-in chief. Balunovic heard in 2003 that members of the special police Frano Drlje and Igor Beneta 'killed somebody in Grubori'. Markac's defense counsel asked Balunovic if he had reported his superior officers about that. The witness said that he didn't find it necessary to report perpetrators immediately as war crimes were not subject to statute of limitations. Balunovic also added that at that time he and other member of the special police who knew the truth about Grubori were threatened so they didn't want to 'expose themselves to revenge'.
Due to disruptions in air traffic next witness wasn't able to arrive in The Hague and an administrative hearing will be held tomorrow at the trial of generals Gotovina, Cermak and Markac. The three Croatian generals are charged with crimes against Serbs in the Operation Storm and after it.