Home
SKABRNJA AS 'EXAMPLE' FOR CROATIAN VILLAGES IN KRAJINA
According to Marko Miljanic, the village of Skabrnja in the Zadar hinterland was razed to the ground in November 1991 in a 'strategic operation' of the JNA, Martic's militia and unidentified 'special units'. The goal of the operation was to make an 'example' of it for other Croatian villages in Krajina, to intimidate their inhabitants and make them leave their homes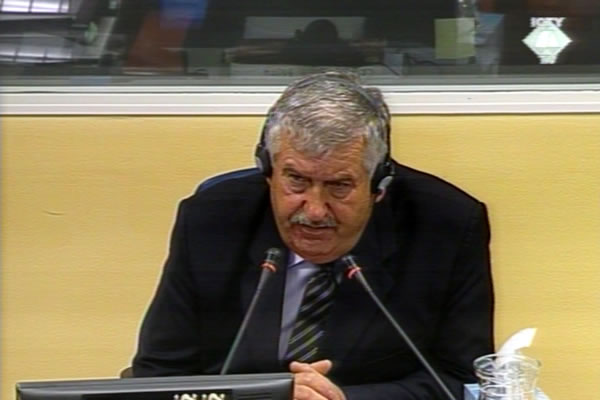 Marko Miljanić, svjedok na suđenju Stanišiću i Simatoviću
The trial of former chief of the Serbian State Security Jovica Stanisic and his assistant Franko Simatovic continued today with the evidence of Marko Miljanic. Stanisic again didn't appear in the courtroom, but followed the trial via video link from a special room in the UN Detention Unit in Scheveningen.
Miljanic began his testimony on 1 December 2009. A former officer in the JNA, Miljanic was the commander of the defense in Croatian village of Skabrnja in the Zadar hinterland. The witness described how the joint forces of the JNA and the Serbian paramilitary troops supported by the artillery and the air force razed Skabrnja to the ground on 18 November 1991. At least 38 civilians were killed, including Miljanic's brother, grandfather and several relatives.
Miljanic said that the worst crimes were perpetrated by the special units wearing berets. Armed with automatic weapons, they jumped out of four helicopters. 'The worst thing happened', Miljanic recounted. 'They entered the village, dragged people out of their basements and killed them'.
As a former military officer, Miljanic said the attack was a 'strategic operation' with a pincer movement to encircle Skabrnja and destroy it completely. According to Miljanic, Skabrnja was to be an 'example' for other Croatian villages to intimidate their inhabitants and make them leave their homes. Miljanic has already given evidence about this incident at the trials of Slobodan Milosevic and Milan Martic. The transcripts of Miljanic's testimony were tendered into evidence at the trial of the former Serbian State Security Service chiefs. Stanisic and Simatovic are charged with crimes the Serbian police and paramilitary forces committed in Croatia and BH.
In their cross-examination, Stanisic's and Simatovic's defense counsels, Gert-Jan Knops and Vladimir Petrovic tried to get the witness to confirm that the attack on Skabrnja was a military operation under the command of Ratko Mladic. At that time Mladic was a colonel and commander of the Knin Corps. The witness couldn't confirm the relationship between the regular army, Martic's militia, Chetniks and other participants in the attack. The witness couldn't identify the formation to which special units that entered the village belonged. 'I cannot say for sure who killed those people', said Miljanic.
After Miljanic, the prosecution called a new witness. Testifying with full protective measures, with image and voice distortion, the witness began the evidence in closed session.