Home
KARADZIC APPLIES FOR CERTIFICATION TO APPEAL AGAINST DECISION TO IMPOSE COUNSEL
Radovan Karadzic applied for certification to appeal the Trial Chamber's decision on appointment of counsel dated 5 November 2009. The appointed counsel should take over as his representative if Karadzic tries again to obstruct the proper and expeditious conduct of the trial, scheduled to continue on 1 March 2010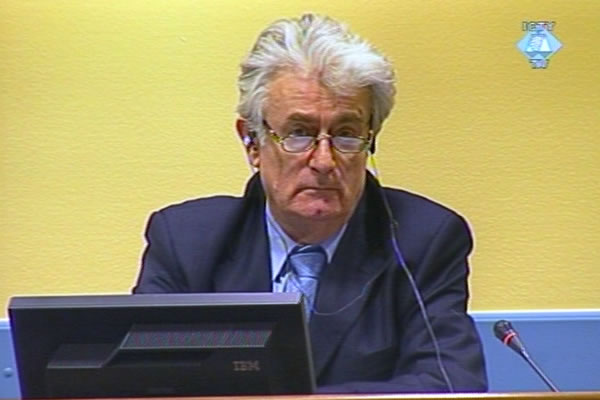 Radovan Karadžić u sudnici Tribunala
Former Republika Srpska president Radovan Karadzic has applied for certification to file an appeal against the Trial Chamber's decision to appoint a counsel for him and to schedule the trial to continue on 1 March 2010. The Chamber decided to impose counsel on Karadzic after he refused to attend the opening statement of the prosecution. Karadzic is on trial for genocide and other war crimes in BH from 1992 to 1995.
In its decision the Trial Chamber ordered the Tribunal's Registrar to appoint counsel representing the interests of the accused if Karadzic in any way attempted to obstruct once again the proper and expeditious conduct of the proceedings. The trial is scheduled to continue on 1 March 2010. The defense counsel has more than three months to prepare for a possible cross-examination of witnesses.
In his motion, Karadzic notes that the Trial Chamber's decision is 'flawed' on several grounds. The judges failed to support their conclusion that 'three and a half months is adequate time for a standby counsel to be prepared for trial in a case of this complexity', Karadzic contends. The Trial Chamber, Karadzic notes, also failed to order the ICTY Registry to provide him with a list of available defense counsel, for him to select his stand-by counsel, although he still intends to represent himself. In Karadzic's view, those two errors are enough to warrant an appeal.