Home
WITNESS: LOOTING AND ARSON IN KRAJINA ANGERED TUDJMAN
Former Croatian justice minister and Tudjman deputy chief of staff Vesna Skare Ozbolt contends that the president was 'fairly irritated and angry' because of the reports on looting and burning of Serb houses in Krajina after Operation Storm. Skare Ozbolt says the law on temporary confiscation of Serb property was passed to prevent further destruction. Why was Cermak angry with the witness?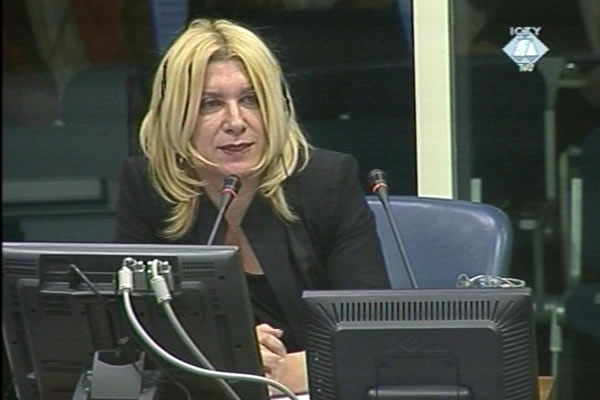 Vesna Škare Ožbolt, svjedok odbrane Ante Gotovine
As the examination-in chief continued, Gotovina's defense witness Vesna Skare Ozbolt confirmed that after Operation Storm, in August 1995, information about arson and looting of Serb houses in Krajina poured into President Tudjman's office, where she worked as deputy chief of staff Generals Ante Gotovina, Ivan Cermak and Mladen Markac are charged with participation in a joint criminal enterprise aimed at expelling Serbs from Krajina and preventing their return by destroying their abandoned houses.
Skare Ozbolt said that looting and burning of Serb houses caught everyone by surprise and President Tudjman was 'fairly irritated and angry' by those incidents. He claimed they were 'staged and result of sabotage'. That is why, Skare Ozbolt claims, Tudjman's office demanded that perpetrators be identified and prosecuted. This resulted in almost 2,000 criminal proceedings. As the witness said, the destruction of abandoned Serb property 'left a stain' on Croatia's efforts to peacefully reintegrate the liberated territory and it was 'very stupid' to destroy housing that could have been used for Croat refugees.
When asked if she knew that the adoption of the law on temporary confiscation of property was yet another attempt by the Croatian authorities to prevent the return of the Krajina Serbs, the witness said the purpose of the law was to keep the houses occupied, lest they should be looted and burned. The plan was for the Croat returnees to move in temporary, while their houses in Krajina were restored, but Skare Ozbolt clarified, it didn't mean that the Serb property would be confiscated permanently. Croatia was committed to protecting private property and it established a special government real estate agency which bought property from Serbs who 'no longer wanted to live in their erstwhile homes'.
As the hearing continued, Vesna Skare Ozbolt was examined by Steven Kay, Ivan Cermak's defense counsel. Cermak was appointed commander of the Knin Garrison on 5 August 1995 by President Tudjman. As the witness contends, this was not a military or police function; Cermak was a well-known entrepreneur sent to Knin to normalize civilian life. The actual territory where he was supposed to do that was not precisely delineated, and this led the witness to call Cermak 'an errant knight'.
Since the start of the trial, Cermak's defense has been trying to prove that Cermak, an entrepreneur, ended up in a military post by coincidence. To corroborate this, the witness recounted an anecdote. On one occasion, somewhere between 2003 and 2006, when she was justice minister, the witness visited Cermak in the UN Detention Unit in Scheveningen. 'I am here because of you, you people from the president's office convinced me to take up the job in Knin', Cermak told the witness then. The witness said that she could understand Cermak's reaction: he was a man taken out of the world of business and no one in the Croatian government expected that the Tribunal might issue indictments for crimes perpetrated in Operation Storm.
As the hearing today drew to a close, the prosecution began cross-examining the witness. She is expected to complete her evidence tomorrow.