Home
STATUS CONFERENCE WITHOUT ACCUSED JOVICA STANISIC
The UN Detention Unit doctor has said 'it would not be inhumane' to transfer the accused Stanisic to the Tribunal to appear at the status conference; he could not rule out the possibility that the accused is exaggerating his medical problems; despite his opinion, the status conference in the case of Jovica Stanisic and Franko Simatovic today was held without the first accused Stanisic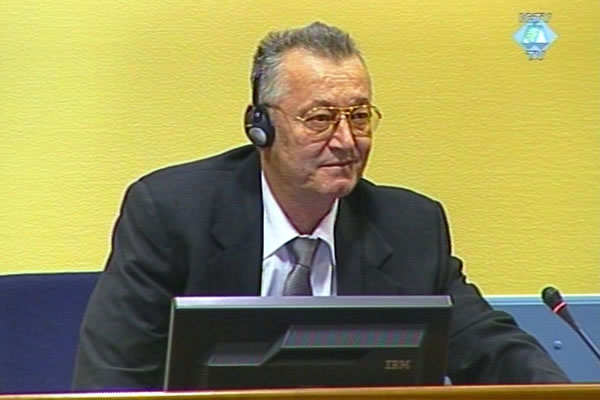 Franko Simatović u sudnici Tribunala
Jovica Stanisic, former chief of the Serbian State Security Service, was not present in the courtroom today and didn't follow the status conference from the UN Detention Unit via video link, although it was set up. Stanisic's former deputy Franko Simatovic was alone in the dock. Stanisic and Simatovic face trial for crimes committed by the Serb police and paramilitary forces in the wars in Croatia and BH.
Judge Orie announced that he received a report by Doctor Eekhof stating that Stanisic 'does not feel well enough to appear in the courtroom'. As Judge Orie commented, the report said nothing about the ability of the accused to follow the hearing via video link. The Detention Unit head informed the judge that the doctor who regularly saw the detainees, Doctor Falke, stated that it 'would not be inhumane to transfer the accused to the Tribunal' to attend the hearing. Finally in his telephone conversation with Judge Orie Doctor Falke said that based on the medical documentation available to him he 'could not rule out the possibility' that Stanisic was exaggerating his medical problems. In addition to intestinal, gastric and psychological problems, Judge Orie said, Stanisic now suffers from discus hernia; he has pain if he walks or stands for a long time.
The judge said that the accused had not given his consent to the conference proceeding without him, but then defense counsel Jordash told the judge that Stanisic had subsequently given his consent, and the status conference went on without him.
Last week, Stanisic's defense filed a motion seeking that the trial, scheduled to reopen on 25 May, be adjourned for at least one month because of their previous engagements in other international courts. Judge Orie today granted a two-week adjournment, scheduling a status conference for 2 June and indicating there might be yet another adjournment. There was a brief discussion on the status of disclosure and agreed and adjudicated facts.
As the status conference today drew to a close, the second-accused Franko Simatovic told Judge Orie he had no health problems and was happy in the detention unit.