Home
WAITING FOR STANISIC'S LATEST HEALTH REPORTS
Psychiatrist De Man and gastroenterologist Siersme will submit their reports on the physical and mental condition of Jovica Stanisic, former chief of the Serbian state security service in two weeks. The Trial Chamber will then decide on the further course of the proceedings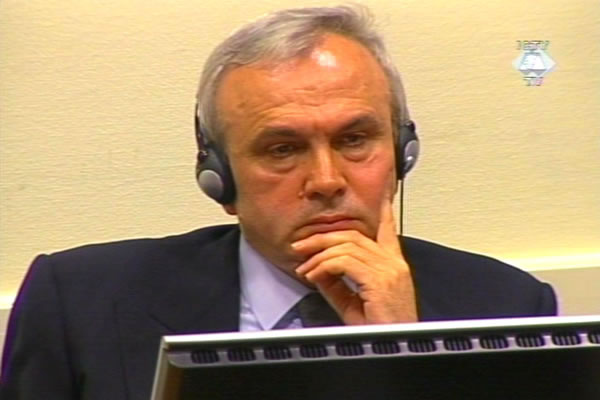 Jovica Stanisic in the courtroom
The Pre-trial Chamber with Dutch judge Alphons Orie presiding will receive reports from the independent psychiatrist and gastroenterologist appointed by the Tribunal within next two weeks. The former chief of the Serbian state security service is charged together with his former assistant Franko Simatovic with crimes committed by the Serbian police and paramilitary troops in Croatia and BH from 1991 to 1995. Both the accused have been provisionally released pending trial and didn't attend the status conference today.
Judge Orie explained that the report by psychiatrist De Man was expected by 17 March and gastroenterologist Siersme's report by 23 March 2009. After considering the reports, the Trial Chamber will decide whether to schedule another status conference or to ask the prosecution and the defense to submit additional motions.
In its decision of 18 December 2008 the Trial Chamber suspended the trial of Jovica Stanisic and Franko Simatovic for another three more months until the health of the first-accused improved. The decision ordered the Registry to appoint two independent experts to examine Stanisic's health. Stanisic's doctors at the Belgrade Military Medical Academy were ordered to submit their reports on the ninth of every month.
Judge Orie noted that Stanisic's gastroenterologist from Belgrade Tarabar didn't comply fully with the Trial Chamber order as he was behind with his reports. Psychiatrist Buchan didn't bother at all to submit his reports. The judge said the Trial Chamber was awaiting the reports of the two doctors and would then consider if more precise instructions were needed.
At the status conference today, the parties discussed the disclosure by the prosecution and the adjudicated facts from the Milan Martic case rejected by the defense counsels of the two accused.