Home
KARADZIC REQUESTS CONTACT WITH MEDIA
Karadzic alleges that he was 'demonized in the media' – the ICTY prosecution and Richard Holbrooke, former US ambassador, led the witch hunt – and now he wants his chance to respond. He has asked the ICTY president to revoke the Registry decision prohibiting him any contact with a Dutch journalist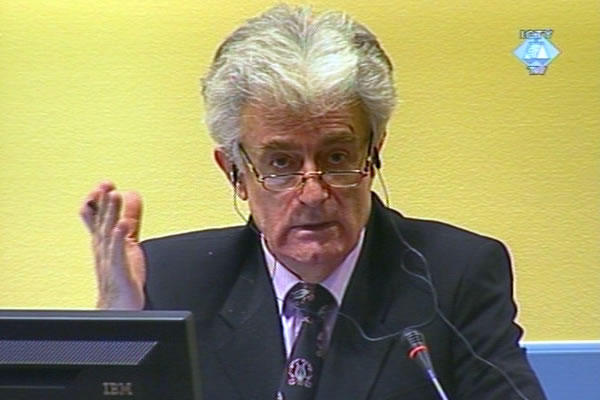 Radovan Karadzic in the courtroom
In his motion to the ICTY president made public today, Radovan Karadzic calls for a reversal of the Registry decision prohibiting him from contacting Zvezdana Vukojevic, a journalist writing for the Dutch magazine REVU.
In October 2008 Karadzic asked the ICTY Registry in writing for permission to meet the Dutch journalist in order to be able to respond to the 'demonization in the media' he had faced over the years. This witch hunt, Karadzic alleged, was led by the ICTY prosecution and former US ambassador Richard Holbrooke.
The Registry rejected his request, citing the security in the UN Detention Unit and unspecified 'potential negative consequences on the administration of justice'. Peter Robinson, who wrote the motion on Karadzic's behalf, was not happy with the reasons. According to him, prohibiting his client from contacting the media qualified as an 'unreasonable restriction of his freedom of speech'. This was a violation of the UN Covenant on Civil and Political Rights and the European Human Rights Convention, which guarantee freedom of speech to everyone, including convicts and persons in custody, Karadzic continued in his motion. In the US, convicted prisoners retain their freedom of speech while European prison regulations specify that prisoners are allowed to communicate with the media. This right can be withheld only if there are 'compelling reasons' related to security or protection of integrity of victims.
However, in his motion Karadzic forgot to list yet another argument in favor of freedom of speech. In early August 1992, Karadzic personally allowed a group of British journalists to communicate with prisoners held in the Omarska and Trnopolje prison camps. Later he came to regret it bitterly as the reports from those prison camps shocked the international community engendering the response that lead to the establishment of the International Criminal Tribunal for the Former Yugoslavia in May 1993.