Home
KARADZIC KNOCKING ON THE WRONG DOOR
Radovan Karadzic's motion seeking and order requiring the Prosecution to allow inspection and disclosure of certain information it may have in its possession which are, according to the accused, material for his defense, has been partly dismissed and partly denied. The Trial Chamber found that part of the motion to inspect the archives was premature and sent to the wrong address while in the part seeking the disclosure of information, the accused "has not met the required criteria outlined for the issuance of the Chamber's order"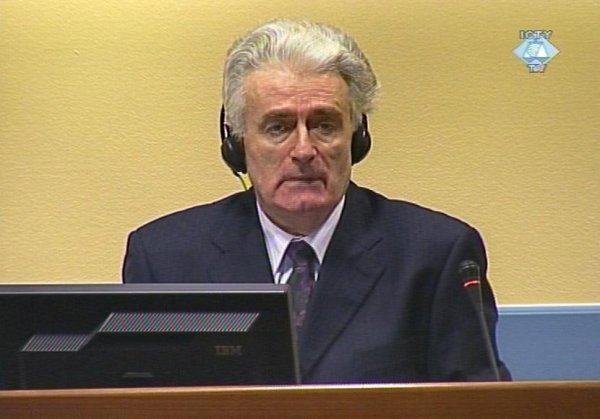 Radovan Karadzic in the courtroom
The Trial Chamber dismissed today Radovan Karadzic's motion asking to be granted access to the prosecution archives and to receive information he believed to be in the possession of the prosecution. In his motion of 6 October 2008, Karadzic noted that he needed the information to prepare a motion in which he will demand that the charges against him be dropped based on the immunity promised, as he alleges, by Richard Holbrooke on 18 July 1996.
In addition to the information related to the agreement with Holbrooke, Karadzic asked to be given information about the demands the prosecution received to drop the charges against him. Karadzic wanted to obtain all the information about the reasons why every attempt to arrest him after July 1996 ended in failure. Also, he demanded to be given all the information about the 'negotiations in BH from 1995 to 1997' between the US, the UN and its bodies and the so-called Contact Group countries.
In its decision rejecting Karadzic's motion, the Trial Chamber advised the accused to turn to the prosecution first regarding the inspection of the archives, as suggested by the Rules of Evidence and Procedure. If the prosecution fails to grant him access to the archives, the Trial Chamber might order the prosecution to grant him access. Since Karadzic failed to observe the procedure, the Trial Chamber found his request 'premature'.
The Trial Chamber also dismissed the accused's motion to order the prosecution to disclose exculpatory material. According to the rules of the Tribunal, the prosecution is obliged to disclose the material it believes to be exculpatory as soon as possible. If the defense believes that the prosecution failed to observe its obligation it has to submit evidence to support such an allegation. Since the Trial Chamber found that Karadzic didn't do that, his motion was denied.