Home
WHEN AND HOW TO TRY JOVICA STANISIC
Both the defense and the prosecution presented their arguments on the proposed options for the trial of Jovica Stanisic and Franko Simatovic. The prosecution, as it seems, would prefer the trial to begin as soon as possible and to proceed via video link from the UN Detention Unit with Stanisic following the trial from his cell. Stanisic's defense wants the trial to be delayed until the therapy starts yielding results. The parties agree that it is 'too early' to discuss the severance of the indictment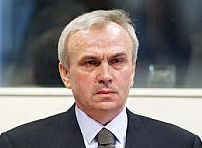 Jovica Stanisic in the courtroom
Because of 'a severe depression and urological problems', Jovica Stanisic, former chief of the Serbian State Security Service, failed to appear three times at the scheduled opening of the trial for crimes committed in Croatia and BH by the Serbian police and paramilitary units. The Trial Chamber called the parties to present their position on various options for the trial.
Prosecutor Dermoth Groome opened his presentation by reminding the Trial Chamber of its decision of 10 March 2008. Following the expert examination of Stanisic's physical and mental condition, the judges decided that the accused was able to stand trial. According to the prosecutor, this decision could be challenged 'only if the circumstances changed significantly' and he believed this was not the case.
The prosecutor emphasized that the report drafted by psychiatrist DeMann, who examined Stanisic last week, was the first report finding that the accused 'suffered from severe depression with elements of psychosis' and that he had hallucinations with suicidal tendencies. The prosecution did not give much weight to the report, Groome said, because the psychiatrist spent less than one hour with Stanisic. He didn't have access to Stanisic's medical record. During the interview, the accused was in severe pain because of a kidney stone and had been dosed with morphine. It is also possible, the prosecutor added, that Stanisic – who is a clever man – now is pretending he has mental problems because he wants the charges against him to be dropped for that reason.
According to the prosecution, it is 'premature' to discuss the severance of the indictment and the possibility that the two accused might be tried separately, first Simatovic and then Stanisic. It is too early to discuss postponing the trial for three to six months until Stanisic's treatment started showing results, the prosecution added. The prosecution believes it is 'possible and safe' to conduct the trial via video link and it is an alternative to the physical presence of the accused in court.
Defense counsel Knoops is opposed to the idea that should Stanisic participate in the trial via video link from the UN Detention unit. To his mind, this is tantamount to a 'trial in absentia'. According to Stanisic's defense, the best option is for the trial to remain in the pre-trial stage until Stanisic gets better. As the defense counsel put it, 'the health of the accused is the most important thing" and the 'delay of the trial is the only solution in the interest of the justice'. Zoran Jovanovic, Franko Simatovic' defense counsel, agreed that this was the best option, adding that the two accused should be tried together because only a joint trial would be a 'fair' trial.
The Trial Chamber notified the parties it will reach its decision on the further course of the trial 'soon'.