Home
SESELJ'S SOLDIER TESTIFIES AGAINST SESELJ
A man from Belgrade who was dispatched to Western Slavonia with the first group of the SRS volunteers in 1991 testifies at the trial of Serbian Radical Party leader charged with crimes against humanity in Croatia, Vojvodina and BH. Most of his evidence was given in closed session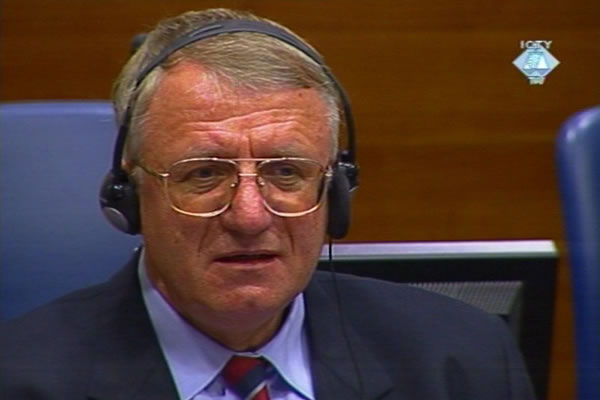 Vojislav Seselj in the courtroom
Former member of 'Seselj's men' gave his evidence today at the trial of Vojislav Seselj. Former SRS volunteer testified for the most part in closed session under the pseudonym VS 033 and with image and voice distortion as identity protection measures.
Before the war, the man from Belgrade was 'employed as a civilian in the JNA'; he worked in construction. In the summer of 1991, he followed 'the monarchist tradition of his family' and became an SRS volunteer. Admitting he was 'politically illiterate', he said it had taken him some time to realize that the 'Radicals were not in favor of the restoration of the monarchy'.
Soon after he became a volunteer in the SRS Belgrade headquarters, witness VS 033 was dispatched to Western Slavonia with the first group of 'Seselj's men'. It was dangerous to travel through Croatia so they made a detour through BH territory. As they traveled, the witness described, the police greeted them along the way. They had obviously been notified they would pass through. In Bosanska Gradiska, they were met by Goran Hadzic, Veljko Dzakula and other leaders of the SAO Western Slavonia. The next day, a JNA bus arrived to take them to the village of Lager-Sekulinci near Vocin.
The SRS volunteers, whose number in the area never exceeded 400, were under the command of Radovan Novacic. He was in turn subordinate to Lieutenant Colonel Jovan Trbojevic, commander of the Western Slavonia Territorial Defense. In the words of the witness, Novacic was in constant touch with the SRS War Staff. Novacic would also travel to Belgrade where he talked to Ljubisa Petkovic, War Staff chief, or to Vojislav Seselj, 'the big boss' of both the party and its volunteers.
The JNA provided 'Seselj's men' with uniforms, weapons, food, fuel and salaries. On the basis of the SRS War Staff certificates, they could get days off from work, they were entitled to accelerated pension plans and health insurance and they were exempt from paying their electricity bills. According to the witness, Seselj was 'close' to the state leadership that had approved those benefits.
This is roughly all that could be heard from the former Seselj's soldier in open session; two-thirds of his evidence was given in closed session. His evidence continues tomorrow when he will be cross-examined by the accused Seselj.