Home
PROSECUTION FILES APPLICATION TO REFER MILORAD TRBIC'S CASE TO BH COURTS
The prosecution filed an application for the referral of the case against Milorad Trbic to the BH courts. Trbic is a former security officer in the VRS Zvornik Brigade, charged with genocide and other crimes in Srebrenica. If the application is granted, there will be seven accused in the dock in the third Srebrenica trial before the ICTY – provided Ratko Mladic and Zdravko Tolimir arrive in The Hague before the start of the trial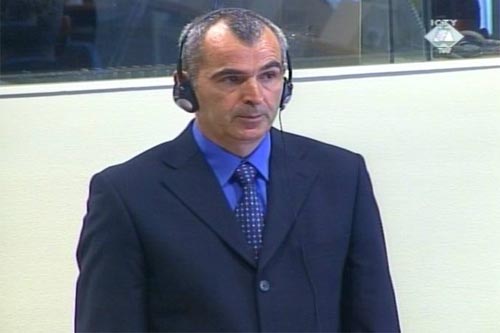 Milorad Trbic in the courtroom
The ICTY Office of the Prosecutor filed an application for the referral of the case against Milorad Trbic, former security officer in the VRS Zvornik Brigade, to the BH courts.
Trbic is one of the nine Bosnian Serb military and police officers charged with genocide and other crimes committed in Srebrenica in July 1995. Eight of them are either in the UN Detention Unit or have been provisionally released. One, Zdravko Tolimir, is at large. Their trial is slated to begin in late August or early September 2006. The six accused in detention – Vujadin Popovic, Ljubisa Beara, Drago Nikolic, Ljubomir Borovcanin, Vinko Pandurevic and Milorad Trbic – pleaded not guilty a month ago on all eight counts in the indictment charging then with genocide, conspiracy to commit genocide, extermination, murder, persecution, inhumane acts and deportation. VRS generals Milan Gvero and Radivoj Miletic are on the same indictment. They have been released pending trial.
According to the amended indictment, Trbic took part in the mass execution of about a thousand Bosniak prisoners in Orahovac on 13 July 1995. He personally executed some of the victims. He is also charged with participation in a secret operation to dig up the mass graves in the Srebrenica area and the removal of the bodies to inaccessible locations, where they were reburied in so-called secondary graves. On 29 March, the prosecution filed an application seeking leave to amend the part of the indictment concerning Milorad Trbic.
Last year, Trbic was deported from the USA to Republika Srpska, where he surrendered voluntarily and has been in the UN Detention Unit since 7 April 2005. He pleaded not guilty to the crimes the prosecution is charging him with.
If the application is granted, there will be seven accused in the dock in the third Srebrenica trial before the ICTY – provided Ratko Mladic and Zdravko Tolimir arrive in The Hague before the start of the trial.